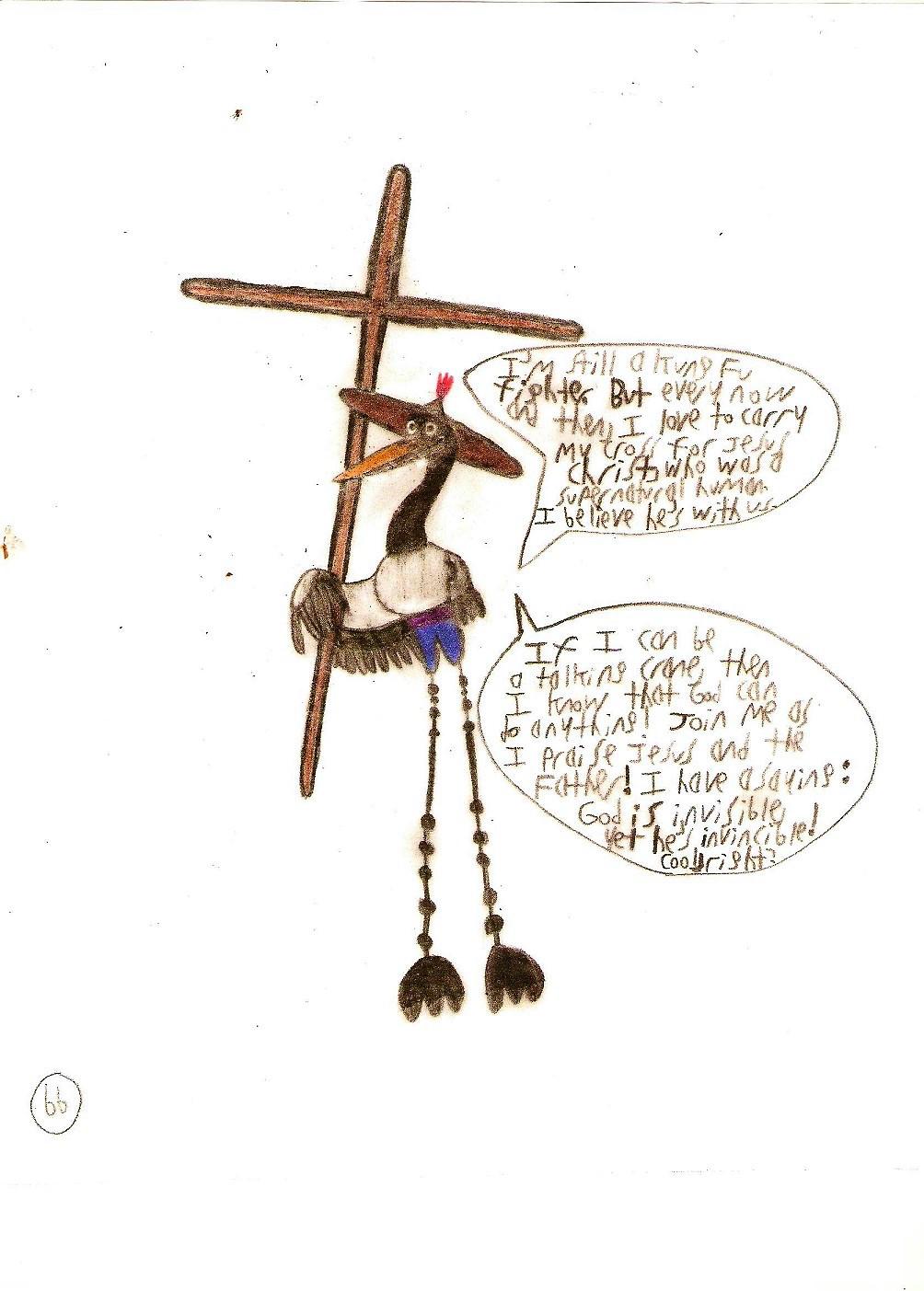 Master Crane is an amazing character from the Kung Fu Panda movies and the series Kung Fu Panda: Legends of Awesomeness. He is a Kung Fu Warrior, and a member of The Furious Five. Many people around the world are stunned by his Kung Fu skills, and he was voiced by some of the greatest actors of all time, including David Cross – the KFP movies – and Amir Talai – the KFP series from Nickelodeon. But have you ever wondered how Master Crane developed his mindset, instincts, and his appreciation for Po, Master Shifu, and the other members of the Furious Five? Have you ever thought to yourself, "How is Master Crane so brave? Why does he defend himself with his wings and talons? What outside forces influenced him to defend The Jade Palace and all of China with the Five?" and felt like you had to know more about why he's such a revered warrior? Well, look no further, because I – Robert Keown – am about to take you on a journey of discovery. You'll find out how Master Crane became such a legendary hero. I'll discuss his cognitive, behavioral, and sociocultural perspectives, and each page of this essay will demonstrate certain aspects of his life. If you're ready to explore and venture deeper into Crane's life, then you're in for a treat. Most of the examples that I'll share may surprise you. There might even be special facts that will blow you away. He may not be the most respected member of The Furious Five, but to me, he is the most interesting character from Dreamworks animation. Prepare for the ultimate voyage into Crane's mind!
First, let's find out how Master Crane developed his cognitive thinking. Basically, this means we'll explore how he thinks. Ever since he was born in China, he has always thought about doing what's right. In his mind, he thinks about what would make him feel stronger and happier. His personality reveals that he is calm, ready for action, and confident. He has a strong sense of Chi, which showcases his perseverance and determination. He's not a bird who likes to argue, but he knows how to find a solution. His graceful feelings don't just apply to his Kung Fu moves – which will be mentioned later – but they also help him to keep his guard up when anything unexpected happens. In 2008, the book "Kung Fu Panda: The Warrior's Guide" noted that Crane is "equally graceful in his dealings with the sometimes conflicting personalities of the Furious Five. When others get worked up, Crane will smooth things over. This guy really is the 'Mother Hen' of the team". One of the reasons I like him is because of his valor and honor. In the Kung Fu Panda movies and series, he's usually shown as a gifted warrior who always trains hard…usually a lot harder than Po. He's an optimistic thinker, and he uses his cognitive skills to figure out which solutions work for certain problems. He's always thought about how his critical thinking skills can help him succeed in life. When I think about how Crane is often a positive bird who has his own outlook on life, I must give him a little admiration. He has a kind heart, and no matter what happens, he does his best to avoid living a life of anger and hatred. Now that I've discussed the cognitive perspective for Master Crane, let's move on to the next perspective.
Secondly, we'll look at how Master Crane developed his learned behavior. This means we'll see how his instincts guide him through life. He is a Kung Fu master who can use his wings to deflect any incoming objects. Now in the wild, instincts are automated, and they help a bird whenever trouble comes. According to an article that The Wilson Journal of Ornithology posted in 2013, one incredible instinct for the Red-Crowned Crane is the ability to pretend to look crippled or injured in order to distract an intruder from stealing its eggs. In the article, Fort Collins notes that, "…The bird suffers from a conflict between the fear emotion and the reproductive emotion and there results an actual muscular inhibition which makes it impossible for the bird to fly". Not only does this make for a clever distraction, but it gives the bird's mate time to evacuate the nest with her chicks. Even though Crane is a highly revered warrior, he's not currently married. However, the urge for love still makes him hopeful. In the wild, Cranes have unusual mating behaviors. In fact, studies have shown that they have special mating dances. In 2010, the Orlando Sentinel newspaper posted an article that reveals an epic ritual to behold. In the article, Sherry Boas notes why the male Crane performs this dance when she says, "…A male shows his potential partner how strong, powerful and protective he can be. He pokes at sticks, reeds or long grasses and sometimes tosses in them the air. He hops up and down, fluffs his wings and shakes his tail feathers, while standing close to the female, who tends to ignore him". Even if Cranes don't know everything about surviving in nature, their instincts guide them like a compass.
Thirdly, I shall discuss how Master Crane's sociocultural perspective works. This means I'll explain how friends and outside forces influence his actions. Crane can become a little nervous whenever he's called to engage in a dangerous mission or witness a tragic event. The other members of The Furious Five try to help him in any situation, but there are times when he'll feel embarrassed for something he does. For example, in the series Kung Fu Panda: Legends of Awesomeness, there are some strange moments where he'll feel like nothing turns out right for him. In the episode, "Mama Told Me Not to Kung Fu", he finds out that his mother – who hated Kung Fu due to an incident with her son – is going to visit him at the Jade Palace. For years, he's written letters to her, and instead of telling her about his life as a Kung Fu master, he makes up a story where he "manages" an inn. In a scene from this episode, he tells Po – the Dragon Warrior panda – about his backstory and his letters, and he confesses, "Po, my mom has a weak heart. If she knew I was a Kung Fu master, it would kill her". Po says, "Are you sure she doesn't know?" Crane replies, "Yes, 'cause she's not dead!" So, to convince her that she doesn't have to worry about him, his friends try to pretend that he's the manager of an inn, which temporarily becomes the location of the Jade Palace. One thing leads to another, and near the end of the episode, when he finally shows off his Kung Fu skills to his mother as he defeats the wolf bandits, she says, "You were incredible, and…you saved my life". This deep feeling of love causes Crane to feel confused, since all his life, he tried to hide his Kung Fu skills as he feared they would literally kill her. He tells her, "But you said you never wanted me to do Kung Fu". And in a surprising way, she tells him, "Because I thought you'd get hurt, but look at you! Who knew you were gonna' get so…good? For so many years, I thought you were weak and fragile". This causes him to feel proud of himself, but he also feels sorry for her. He forgives his mother, and she happily leaves him at the Jade Palace with his friends. An outside force – his friends and his mother – caused him to have a change of heart. Not only was that an epic event for him, but it also led to some intriguing thoughts about how his dedication to Kung Fu has helped him save China. From that day on, he started to develop a sense of peace as he finally settled his lifelong grudge between his mother and broke it. Crane is an honorable warrior, and he has a quip for any situation that may occur in his life. In the movie Kung Fu Panda 2, there's an interesting scene where he, The Five, and Po are dragged off by the wolf bandits to see Shen the peacock, who was the main antagonist in the movie. Before one of the bandits puts a chain on Crane's neck, Crane boldly declares, "You can chain my body, but you will never chain my glorious spirit". That really stunned me. Despite all the shame that the other members of The Five felt, Crane was able to speak up and stand his ground. It's clear that he knows how to defend himself; even when trouble arises, he holds strongly to Master Shifu's teachings. His friends are often influencing him to become the best bird he can be. From allergies and the return of Tai Lung, to battling with Shen and defending himself against Kai, his Chi is strong, and he doesn't give up easily. His optimistic attitude definitely helps him make a difference in Ancient China.
In conclusion, I have discussed how Master Crane has developed his cognitive, learned, and sociocultural behaviors. I have also discussed how each of these perspectives have morphed him into the valiant hero we see today in the Kung Fu Panda world. I really hope I have been clear about this, and I also believe that he is a shining symbol of greatness. In our world, a good psychological analysis is essential to the growth of the human mind. I believe Crane is a great example of a cartoon character who has so many great qualities about his heritage and the skills he uses to help the world; to me, he is the greatest character I have ever seen from DreamWorks Animation and Nickelodeon. I love seeing his Kung Fu moves and hearing his witty remarks to Po and The Furious Five. He is a character who will never become dull to me because he is a talking bird who does Kung Fu and wears pants. It really is amazing what anyone can find about a real person or a cartoon character if enough studying and analyzing is accomplished. Remember, if Crane was able to show the world what he could do, why couldn't we do the same? If he was willing to protect all of China with the help of his friends, imagine what would happen if all of us teamed up to protect our world and make our beliefs established. I believe none of us are ever too old for a new beginning. If we keep our hopes up and do our best to make a positive difference, we can change the world. May Master Crane be revered as an awesome Kung Fu warrior, and one of my favorite fictional role models.
Works Cited
Scott, H. (2008) Kung Fu Panda: The Warrior's Guide. New York, NY: DK Publishing
Wang, Q., Zhou, X., & Lu, X. (2013). The 'injury feigning' displays of the red-crowned crane. The Wilson Journal of Ornithology, 125(2), 415-417. Retrieved from https://libproxy.kctcs.edu/Madisonville?url=https://search.proquest.com/docview/1418299894?accountid=12223
Boas, S. (2010, Nov 08). Cranes' mating dance a stunning sight. Orlando Sentinel Retrieved from https://libproxy.kctcs.edu/Madisonville?url=https://search.proquest.com/docview/762709666?accountid=12223
Huebner, A. (Producer). (2013, June 18). Mama told me not to Kung Fu [Television Broadcast]. Kung Fu Panda: Legends of Awesomeness. Nickelodeon.
Cobb, M. (Producer), & Nelson, J. (Director). (2011). Kung Fu Panda 2. [Motion Picture]. United States, Paramount Pictures.
(edited by administrators)