Kung Fu Panda 2 is my favorite movie in the franchise, not only because of its plot but also because of how it expanded the world in the movie. DreamWorks guided us to Gongmen City, then the old Panda Village, then the new one. While in KFP3 we only see a brief of moments at some places like the Tavern River Bed or the farm where Kai reborn.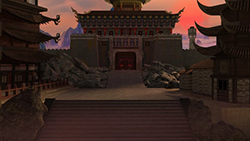 I hope that the 4th chapter will continue that way of KFP2. We should see other nations like Japanese or Mongo (where the Chorh-Gom Prison located in KFP1) invading China, or at least the antagonist is inspired by different cultures or different martial art (like how Shen used Cai Li Fo in KFP2). Also, the Emperor of China has not appeared as canon in any movie so I would love to see him appear in the next movie too, maybe he will gather masters from all China to battle along with him.
And about the antagonist, we have seen a male villain 3 times. So what I think of now is more than 1 villain, and at least 1 female. For instance, a couple or twin with 1 male and 1 female would be great, and they should use weapons like Shen and should wear outfits because we have already had Tai Lung and Kai shirtless (although Kai does wear armor and cape, but only in the past). For what I can think of is a couple/twin of kitsune that follow ninja shinobi concept. I would also love a character that use a metal fan as a weapon too.
I have heard that KFP2 was criticized "too dark for children" by some parents which lead to KFP3 weak plot. I love Kai, but the third movie plot is so weak and not as meaningful as the previous one. I hope that in Kung Fu Panda 4, DreamWorks will return to how they made KFP2 having a serious plot; or AT LEAST a plot that is better than KFP3, also less cringy jokes and would exploit the characters better.
So, what do you guys want Kung Fu Panda 4 to have?