Some of you may already know about it, especially if you've seen this previsualisation before:
https://www.youtube.com/watch?v=aeudrOEKoKk
As seen in the video, in the earlier draft of the screenplay, Po's adoptive father was supposed to get hit by Master Porcupine's spine (which apparently was poisonous).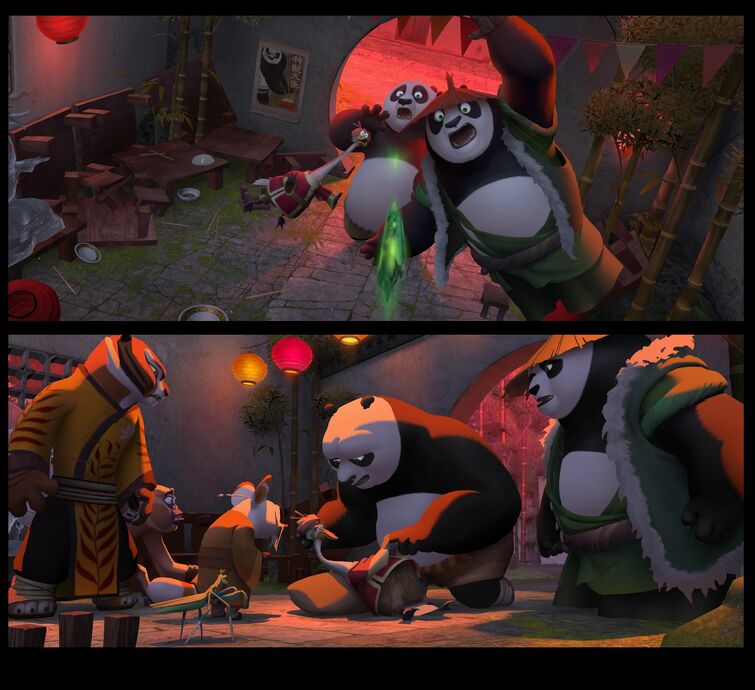 I wonder if that could have been the reason for Po to go to the Panda Village in the first place (instead of the reason we eventually got) - like, Li suggested to take him there because pandas know better healing techniques or something (Li was to be a healer). Because if not, it's pretty weird they would decide to drag poor Mr. Ping all the way to those faraway mountains instead of leaving him with doctors from the Valley of Peace (a long and tough journey like that could have worsened goose's condition, maybe even getting him killed)...
But wow, Mr. Ping getting hurt would have change film's mood drastically. Po's stay at the village wouldn't be all about having fun, rolling down the hill and getting to know who he is. He's dad would be seriously injured and fighting for his life in a place called "apothecary". Especially when he says "I didn't mean to survive"... Man...
But it's interesting how Mr. Ping's and Li Shan's relationship would develop since Li is the person saving goose's life.
By the way, I find it amusing how the visual development artists have to design literally everything, including a rice sack or a root.
Artworks by Arthur Fong (first two ones) and Jason Brubaker (second two ones).