m

m

Line 22:
Line 22:
 

==Plot==

 

==Plot==

 

===Synopsis===

 

===Synopsis===

−

<blockquote>"Master [[Yao]] announces that anyone who brings him a new wonder will be allowed to ask him a single question."<ref>[http://tvlistings.zap2it.com/tv/kung-fu-panda-legends-of-awesomeness-a-thousand-and-twenty-questions/EP014763920113 Zap2It.com - "Kung Fu Panda: Legends of Awesomeness : A Thousand and Twenty Questions"]</ref></blockquote>

+

<blockquote>Master [[Yao]] announces that anyone who brings him a new wonder will be allowed to ask him a single question.<ref>[http://tvlistings.zap2it.com/tv/kung-fu-panda-legends-of-awesomeness-a-thousand-and-twenty-questions/EP014763920113 Zap2It.com - "Kung Fu Panda: Legends of Awesomeness : A Thousand and Twenty Questions"]</ref></blockquote>

 
 
 

===Summary===

 

===Summary===

−

{{spoiler}}

 
 

[[File:Master-yao.jpg|thumb|left|{{caption}}]]

 

[[File:Master-yao.jpg|thumb|left|{{caption}}]]

 

''Coming soon!''{{clrl}}

 

''Coming soon!''{{clrl}}

Line 59:
Line 58:
 
 
 

===Videos===

 

===Videos===

 
+

<gallery widths="650" position="center" hideaddbutton="true">

−

[[File:A Thousand and Twenty Questions (Full) - KFP LOA|center|650px]]<br />

+

A Thousand and Twenty Questions (Full) - KFP LOA

 
+

</gallery>

 
 
 

<center>[[:Category:Videos from Legends of Awesomeness|<span class="button">View more...</span>]]</center>

 

<center>[[:Category:Videos from Legends of Awesomeness|<span class="button">View more...</span>]]</center>

Line 67:
Line 68:
 
 
 

<center>[[{{PAGENAME}}/Quotes|<span class="button">Read more...</span>]]</center>

 

<center>[[{{PAGENAME}}/Quotes|<span class="button">Read more...</span>]]</center>

−

{{endspoiler}}

 
 
 
 

==See also==

 

==See also==

Line 75:
Line 75:
 

{{reflist}}

 

{{reflist}}

 
 
−

==External Links==

+

==External ==

 

* [http://www.imdb.com/title/tt2992246/ A Thousand and Twenty Questions] at the {{WP|Internet Movie Database}}

 

* [http://www.imdb.com/title/tt2992246/ A Thousand and Twenty Questions] at the {{WP|Internet Movie Database}}

 

* [http://www.tv.com/shows/kung-fu-panda-legends-of-awesomeness/a-thousand-and-twenty-questions-2863076/ A Thousand and Twenty Questions] at {{WP|TV.com}}

 

* [http://www.tv.com/shows/kung-fu-panda-legends-of-awesomeness/a-thousand-and-twenty-questions-2863076/ A Thousand and Twenty Questions] at {{WP|TV.com}}
---
Revision as of 18:51, 4 January 2014
This article is a stub.
Not all information has been covered about this subject. You can help by expanding it!
This article is out of universe from Kung Fu Panda.
This subject has been distinguished as part of the real world and therefore should not be taken as part of the fictional universe of the Kung Fu Panda franchise.
"A Thousand and Twenty Questions" is the fifth episode from season three of Kung Fu Panda: Legends of Awesomeness.
Plot
Synopsis
Master Yao announces that anyone who brings him a new wonder will be allowed to ask him a single question.[2]
Summary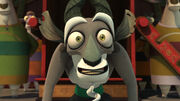 Coming soon!
Voice cast
Gallery
Images
Videos
Quotes
Coming soon!
See also
References
External links
Community content is available under
CC-BY-SA
unless otherwise noted.