The Ancient Locking Stocks are a pair of differently sized stockades. They were first seen in use in the Kung Fu Panda: Legends of Awesomeness episode "Bad Po".
Description
The stocks are a pair of simplistic brown stockades of different sizes. Po once commented that the regular sized stockade had been built for a Sideshow, while the small stockade had been built for Sideshow Junior.[1]
History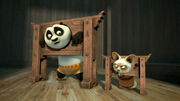 In "Bad Po", the stockades were a couple of the many artifacts stored in the Jade Palace, and were admired by regular Po shortly before his separation into Good and Bad Po as a result of looking into the Mystical Mirror of Yin and Yang. Later in the episode, Bad Po used the stockades to restrain Good Po in order to keep his counterpart out of trouble, as they could feel each others' pain.
When Shifu eventually figured out what had happened to Po, Bad Po kidnapped Shifu and placed him in the stockades next to Good Po. After explaining the situation to the clueless Good Po, Shifu then had to endure the frustrating process of coaxing and manipulating Good Po into grabbing the keys, which Bad Po had unknowingly dropped within a leg's reach but his good counterpart hadn't thought to get them. Good Po was eventually persuaded into getting out of the stocks and picking up the keys; the stockades had actually been unlocked the entire time.
Gallery
Images
Coming soon!
Videos
Coming soon!
References
Community content is available under
CC-BY-SA
unless otherwise noted.