Di Tan is a character mentioned in the Nickelodeon television series Kung Fu Panda: Legends of Awesomeness. Mr. Ping shared the story of Di Tan in the episode "Master Ping", saying he was a legendary noodle seller who traveled the countryside selling noodles. Mr. Ping highly regarded him as the maker of "the best noodles in all of China."[1]
Biography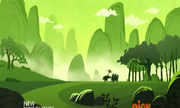 Not much is known about Di Tan other than that he was a famous chef who traveled across the land with his noodle cart, selling delicious noodles that were the best in China. His cooking was praised by many, and he had a very successful business and made a fortune.
Personality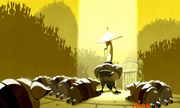 Di Tan seems to have much of the same traits of the
Legendary Warrior
, as he is a mysterious heroic figure with extraordinary skills who impresses those in his presence. He is also said to have had a good business sense, asking his customers, "How much do you have?" when questioned on what they owed him for his amazing noodles.
[1]
Abilities
Di Tan was evidently a gifted cook who was able to make great-tasting noodles that awed his customers, as they were "not too firm," "not too thin," and had "no starchy after-taste." He was also noted to have good business sense.[1]
Clothing
Di Tan wears a robe similar to Mr. Ping's, but wears a rice hat instead of a noodle bowl shaped one.
Gallery
Images
Coming soon!
Videos
Coming soon!
References
Community content is available under
CC-BY-SA
unless otherwise noted.