This article is out of universe from Kung Fu Panda.
This subject has been distinguished as part of the real world and therefore should not be taken as part of the fictional universe of the Kung Fu Panda franchise.
"Father Crime" is the twenty-fifth episode from season one of Kung Fu Panda: Legends of Awesomeness.
Plot
Synopsis
When Shifu's father returns to the Jade Palace, Po thinks the family reunion will be so sweet. He soon learns that Shifu and his father don't get along.[1]
Summary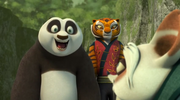 As Po and Tigress are walking through the woods, they overhear a confrontation and investigate. It turns out that an old man is being menaced by the Croc Bandits, and the two warriors quickly go to his aid. After a quick battle-during which the stranger displays some Kung fu skill of his own-the crocs retreat. The stranger then introduces himself to his two rescuers as Shirong, Shifu's father, much to Po's excitement. Upon their arrival at the Jade Palace, however, Shifu is far from thrilled to see his father, whom he outs to his students as a conman and thief.
After some persuasion by Po, Shifu agrees to allow Shirong to stay the night on the condition that he leave first thing in the morning. Po then takes Shirong to his room, only to overhear sounds of a struggle. Reentering the room he finds it in shambles with Shirong gone, and alerts the other masters. To his disbelief, Shifu refuses to take the matter seriously, thoroughly convinced that Shirong is attempting to trick them. Unbeknownst to them, Shifu is correct, as Shirong has struck a deal with the Croc Bandits' boss Tong Fo, planning to lure Po to him as payment for Shirong's attempt to scam Tong Fo.
Shifu then reveals to Po the unfortunate story of his relationship with Shirong, which involved Shifu taking part in Shirong's deceits before being left sitting at the top of the Jade Palace steps. Shirong has returned since only to continually lie and deceive, which Po takes as evidence of Shirong's care for his son, as "[he] could steal anywhere." Po then gives Shifu a gold locket left behind by Shirong, which proves to contain a picture of Shifu. Po then sets out alone to rescue Shirong only to find Tigress, who admits that she has undertaken the same unauthorized mission.
To the surprise and horror of Shirong, Shifu is the first to arrive to his rescue only to be captured by Tong Fo, with Tigress and Po running into similar trouble upon their arrival. However, Shirong comes to the aid of his son and Shifu's students, freeing Shifu before joining him in a tag-team battle with Tong Fo. Upon the crime lord's defeat, Shirong returns briefly to the Jade Palace with his son, who returns the locket with a new portrait of the two together. After apologizing for his past misdeeds, Shirong departs—only to steal Shifu's coin purse as he's leaving.
Voice cast
Gallery
Images
Videos
Coming soon!
Quotes
Coming soon!
See also
References
↑ Kung Fu Panda: Legends of Awesomeness : Episode Descriptions via the Internet Archive's Wayback Machine. Archived October 29, 2011.
External links
Legends of Awesomeness Season 1 episodes
No.

in series

No.

in season
Title
Directed by
Written by
Original air date
Prod. code
1
1
"Scorpion's Sting"
Jim Schumann
Doug Langdale
September 19, 2011
101
2
2
"The Princess and the Po"
Jim Schumann
Doug Langdale
October 21, 2011
103
3
3
"Sticky Situation"
Gabe Swarr
Scott Kreamer
November 7, 2011
102
4
4
"Chain Reaction"
Michael Mullen
Kevin Seccia
November 8, 2011
104
5
5
"Fluttering Finger Mindslip"
Jim Schumann
Jessica Gao
November 9, 2011
105
6
6
"Good Croc, Bad Croc"
Michael Mullen
Scott Kreamer
November 10, 2011
111
7
7
"Hometown Hero"
Juan Meza-Leon
Kevin Seccia
November 11, 2011
109
8
8
"Jailhouse Panda"
Michael Mullen
Doug Landgale & Jon Ross
November 18, 2011
117
9
9
"Owl Be Back"
Michael Mullen
Doug Langdale
November 26, 2011
107
10
10
"Bad Po"
Luther McLaurin & Jim Schumann
Jon Ross
November 26, 2011
113
11
11
"Sight for Sore Eyes"
Juan Meza-Leon
Doug Langdale
November 27, 2011
108
12
12
"Rhino's Revenge"
Michael Mullen
Scott Kreamer
November 27, 2011
106
13
13
"Master Ping"
Michael Mullen
Paul Rugg
November 28, 2011
119
14
14
"Ghost of Oogway"
Lane Lueras & Luther McLaurin
Kevin Seccia
November 29, 2011
120
15
15
"The Kung Fu Kid"
Juan Meza-Leon
Scott Kreamer
November 30, 2011
122
16
16
"Ladies of the Shade"
Michael Mullen
Joshua Hamilton
December 1, 2011
123
17
17
"Big Bro Po"
Lane Lueras
Doug Langdale
December 2, 2011
118
18
18
"Po Fans Out"
Juan Meza-Leon
Kevin Seccia
December 9, 2011
112
19
19
"Challenge Day"
Jim Schumann
Scott Kreamer
December 16, 2011
110
20
20
"My Favorite Yao"
Luther McLaurin
Joshua Hamilton
December 30, 2011
114
21
21
"In With the Old"
Michael Mullen
Kevin Seccia
January 16, 2012
124
22
22
"Has-been Hero"
Gabe Swarr
Kevin Seccia
March 31, 2012
126
23
23
"Love Stings"
Juan Meza-Leon
Joshua Hamilton
April 2, 2012
115
24
24
"Hall of Lame"
Juan Meza-Leon
Kevin Seccia
April 3, 2012
116
25
25
"Father Crime"
Michael Mullen
Doug Langdale
April 4, 2012
121
26
26
"Monkey in the Middle"
Lane Lueras
Gene Grillo
April 5, 2012
125
Community content is available under
CC-BY-SA
unless otherwise noted.