This article is a stub.
Not all information has been covered about this subject. You can help by expanding it!
The Gauntlet of Wooden Warriors is a collection of rotating, steel-studded wooden posts that serves as one of the Training Hall's kung fu training mechanisms.
Description
This piece of training equipment is perhaps the most challenging to overcome without injury. Taking the shape of crocodile warriors, each section of the mannequin moves independently of each other, requiring quick reflexes to avoid or counter. According to Po, they are very hard.
History
Background
Inspired by the legendary fighters of the Ngoh Wan Crocodile Clan whose armored hides were said to be able to withstand the iron arrows of the Shaanxi Spirit Archers and the black stone clubs of the mountain giants from Hengshan, the gauntlet of steel-studded wooden warriors is a formidable test for any kung fu master. You need the speed of a striking cobra, the reflexes of a hunting panther, and the courage of a dragon warlord to run the gauntlet and emerge unscathed.

It is Master Mantis' favorite piece of training equipment.[2]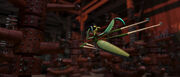 The Wooden Warriors first appear when the Five are shown training, where Master Mantis effortlessly runs the Gauntlet. Po has a harder time and is whacked numerous times in numerous areas before stumbling onto the Field of Fiery Death for the coup de grace.
Coming soon!
Gallery
Images
Coming soon!
Videos
References
↑ Revealed in "Sticky Situation" from Nickelodeon's Kung Fu Panda: Legends of Awesomeness. Ep. 3, Season 1. Written by Scott Kreamer & directed by Gabe Swarr. Originally aired November 7, 2011.
↑ Training Hall on the September 24, 2010

*

version of the official Kung Fu Panda website via the Internet Archive's Wayback Machine. Retrieved July 29, 2010.
Community content is available under
CC-BY-SA
unless otherwise noted.