Wiki Targeted (Entertainment)
Play Sound
This article is a stub.
Not all information has been covered about this subject. You can help by expanding it!
Grandma Panda (also referred to simply as Grandma) is an elderly giant panda who resides in the secret panda village. She makes her first appearance in Kung Fu Panda 3.
Biography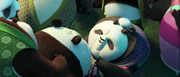 Coming soon!
Personality
Grandma Panda has been described as having a "feisty spirit."[1]
This section needs revising.
The content below could use some extra attention. You can help by editing it!
She is kind and sweet not to mention very affectionate, often pulling Po's cheeks and complimenting him on how handsome he is. Because of her old age, she can be a bit slow but has proven to be a competent fighter. She can actually be very spunky, as shown when she fights the jombies and refers to herself near the end as a lethal fighting machine.
Relationships
Nu Hai and Bao are Grandma Panda's grandchildren. In the Paws of Destiny pilot episode, it is revealed that she became their guardian after their parents passed away, though no details were given as to how. Grandma Panda shows to love her grandchildren and will do anything to keep them safe.
Clothing
Coming soon!
Trivia
A running gag throughout Kung Fu Panda 3 has Grandma Panda always getting hit on the head and knocked out by something: the first time by Po, who kicked a ball too far, landing on Grandma; the second time by Mei Mei, who accidentally hit her with a pair of nunchucks she threw; and a third time by Bao, who accidentally kicked a ball onto her head at the end of the film.
Gallery
Images
Videos
Quotes
[ Po kicks a ball high into the air, which then lands on Grandma Panda in the distance.]

Grandma Panda: "Ow! [She falls over.] "

[Everyone watching gasps as Po awkwardly walks away.]

Grandma Panda: "I'm good!"

References
↑ 1.0 1.1 Kung Fu Panda on Facebook: "Grandma Panda may be the oldest panda in China, but her feisty spirit proves that age is just a number." Posted and retrieved November 8, 2015.