This article is out of universe from Kung Fu Panda.
This subject has been distinguished as part of the real world and therefore should not be taken as part of the fictional universe of the Kung Fu Panda franchise.
"Hall of Lame" is the twenty-fourth episode from season one of Kung Fu Panda: Legends of Awesomeness.
Plot
Synopsis
Po has to find an awesome trophy for the Hall of Heroes or risk being humiliated in front of the entire village at the upcoming Warrior Festival.[1]
Summary
This section needs revising.
The content below could use some extra attention. You can help by editing it!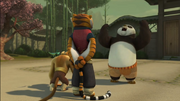 While training with Tigress, Mantis, and Monkey, Po was challenged to jump through a small wooden hole, which he thought was impossible for him. While attempting the feat, Master Shifu appeared, causing Po to lose focus and destroy the piece of equipment. Shifu reminded Po that he had to pick out a trophy for the Hall of Heroes showing that was to be presented at sundown. Po, who had completely forgotten about it, took Tigress' advice and visited the Hall of Heroes for inspiration. Deciding he needed a cool-looking weapon, he searched his room at the barracks and at the noodle shop, but found nothing impressive.
While wandering the streets he saw a suspicious-looking water buffalo carrying a sword. He was then met by a young pig named Han, who wanted to ask Po something. Brushing him aside, the panda accused the buffalo of being a villain and demanded that he hand over the sword, accusing him of stealing it and believing he could earn the sword as a trophy after fighting him for it. However, he was surprised to learn that the buffalo had actually bought the sword and handed it over willingly, commenting that it wasn't to his liking.
Disappointed and running out of time, Po was again approached by Han, who asked for his help to save a friend named Xian Xang from a gang looking for him. Po decided to help, hoping to attain a trophy from this venture, and after a long walk, the pig led Po to Xiang Xang, who was revealed to be a stuffed rabbit doll stuck in a tree. Thinking that retrieving a doll wasn't worth his time, Po passed on helping at first, but was eventually convinced by the disheartened Han to climb up the tree and fetch Xiang Xang.
To be continued...
Voice cast
Trivia
The episode's title is a pun on "hall of fame," which is "a structure housing memorials to famous or illustrious individuals ... ."[2]
Gallery
Images
Videos
Quotes
Coming soon!
See also
References
↑ Kung Fu Panda: Legends of Awesomeness : Episode Descriptions via the Internet Archive's Wayback Machine. Archived October 29, 2011.
↑ Merriam Webster - "Hall of Fame". Retrieved April 7, 2018.
External links
Legends of Awesomeness Season 1 episodes
| No. in series | No. in season | Title | Directed by | Written by | Original U.S. airdate | Prod. code |
| --- | --- | --- | --- | --- | --- | --- |
| 1 | 1 | "Scorpion's Sting" | Jim Schumann | Doug Langdale | September 19, 2011 | 101 |
| 2 | 2 | "The Princess and the Po" | Jim Schumann | Doug Langdale | October 21, 2011 | 103 |
| 3 | 3 | "Sticky Situation" | Gabe Swarr | Scott Kreamer | November 7, 2011 | 102 |
| 4 | 4 | "Chain Reaction" | Michael Mullen | Kevin Seccia | November 8, 2011 | 104 |
| 5 | 5 | "Fluttering Finger Mindslip" | Jim Schumann | Jessica Gao | November 9, 2011 | 105 |
| 6 | 6 | "Good Croc, Bad Croc" | Michael Mullen | Scott Kreamer | November 10, 2011 | 111 |
| 7 | 7 | "Hometown Hero" | Juan Meza-Leon | Kevin Seccia | November 11, 2011 | 109 |
| 8 | 8 | "Jailhouse Panda" | Michael Mullen | Doug Landgale & Jon Ross | November 18, 2011 | 117 |
| 9 | 9 | "Owl Be Back" | Michael Mullen | Doug Langdale | November 26, 2011 | 107 |
| 10 | 10 | "Bad Po" | Luther McLaurin & Jim Schumann | Jon Ross | November 26, 2011 | 113 |
| 11 | 11 | "Sight for Sore Eyes" | Juan Meza-Leon | Doug Langdale | November 27, 2011 | 108 |
| 12 | 12 | "Rhino's Revenge" | Michael Mullen | Scott Kreamer | November 27, 2011 | 106 |
| 13 | 13 | "Master Ping" | Michael Mullen | Paul Rugg | November 28, 2011 | 119 |
| 14 | 14 | "Ghost of Oogway" | Lane Lueras & Luther McLaurin | Kevin Seccia | November 29, 2011 | 120 |
| 15 | 15 | "The Kung Fu Kid" | Juan Meza-Leon | Scott Kreamer | November 30, 2011 | 122 |
| 16 | 16 | "Ladies of the Shade" | Michael Mullen | Joshua Hamilton | December 1, 2011 | 123 |
| 17 | 17 | "Big Bro Po" | Lane Lueras | Doug Langdale | December 2, 2011 | 118 |
| 18 | 18 | "Po Fans Out" | Juan Meza-Leon | Kevin Seccia | December 9, 2011 | 112 |
| 19 | 19 | "Challenge Day" | Jim Schumann | Scott Kreamer | December 16, 2011 | 110 |
| 20 | 20 | "My Favorite Yao" | Luther McLaurin | Joshua Hamilton | December 30, 2011 | 114 |
| 21 | 21 | "In With the Old" | Michael Mullen | Kevin Seccia | January 16, 2012 | 124 |
| 22 | 22 | "Has-been Hero" | Gabe Swarr | Kevin Seccia | March 31, 2012 | 126 |
| 23 | 23 | "Love Stings" | Juan Meza-Leon | Joshua Hamilton | April 2, 2012 | 115 |
| 24 | 24 | "Hall of Lame" | Juan Meza-Leon | Kevin Seccia | April 3, 2012 | 116 |
| 25 | 25 | "Father Crime" | Michael Mullen | Doug Langdale | April 4, 2012 | 121 |
| 26 | 26 | "Monkey in the Middle" | Lane Lueras | Gene Grillo | April 5, 2012 | 125 |