This article is a stub.
Not all information has been covered about this subject. You can help by expanding it!
The Jade Tortoise of Wisdom is a large jade bowl shaped like a tortoise that serves as one of the Training Hall's training mechanisms.
Description
The Jade Tortoise of Wisdom is a huge hunk of jade with a hollow center and five bits sticking out, which forms the shape of a tortoise. It is Master Crane's favourite exercise.
History
Background
When the great Master Oogway traveled to a lost mining village hidden in the Mystic Mountains, he was presented with the rare gift of a massive hunk of jade. Ever the humble master, Oogway decided himself unworthy of such a gift, and divided it among the villagers as a token of his respect. The remaining shell was taken to the Temple where it is used even today for the avid training of his disciples. It is said that if one listens hard enough, each ring from its lustrous surface resonates with Oogway's humble chuckle.

Master Crane is often found doing his forms on the rolling jade bowl.[1]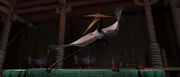 The Jade Tortoise first appears when Po is brought into the Training Hall by Master Shifu; Crane flies to it and deflects several projectile spears before engaging Master Tigress. Po is less graceful when he falls into it and rebounds all over it before it dumps him into the next stage.
In Sticky Situation, the Jade Tortoise manages to survive Po's destruction of the Training Hall, but later becomes part of Taotie's malevolent machine.
Gallery
Images
Coming soon!
Videos
References
↑ Training Hall on the September 24, 2010

*

version of the official Kung Fu Panda website via the Internet Archive's Wayback Machine. Retrieved July 29, 2010.
Community content is available under
CC-BY-SA
unless otherwise noted.