This article is a stub.
Not all information has been covered about this subject. You can help by expanding it!
Jing Mei is a minor character in the Nickelodeon television series Kung Fu Panda: Legends of Awesomeness. He is the young nephew of Temutai, presumably making him a member of the Qidan Clan. Jing Mei first appeared in "The Kung Fu Kid", in which he fought and lost to Peng at the Peace Jubilee hosted by the Valley of Peace.
Biography
Jing Mei first appeared when he was to be paired up with one of the children in the children's matches, but they were all afraid of him, except Peng, who beat him. He later came to Temutai's tent to ask him something, but turned around when he saw the fight between Temutai and Peng.
He later appeared in The Most Dangerous Po as one of the villains that General Tsin had frozen cruelly. Po rescued him and the other villains from Tsin.
Personality
Jing Mei appears to have his uncle's brutish tendencies and anger issues, but is more timid. This is shown when he didn't interfere in a squabble between Temutai and Peng.
Fighting style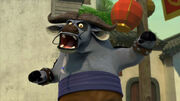 Jing Mei fights rather amateurishly; he uses mostly punches, charges, and yells without planning his moves through.
Relationships
Coming soon!
Coming soon!
Clothing
Coming soon!
Gallery
Images
Videos
Coming soon!
Quotes
Coming soon!
References
Community content is available under
CC-BY-SA
unless otherwise noted.