This article is a stub.
Not all information has been covered about this subject. You can help by expanding it!
Jinzhou (pronounced "jihn-ZOO") is a city that was featured in Secrets of the Masters.
Description
Located in some proximity to the Hubei Volcano, Jinzhou was a run down city where Kung fu was regarded as a means to get gain and entertain the city's seedier denizens as opposed to a noble martial art. However, Jinzhou Palace was apparently considered a secure place in which to imprison Su Wu, leader of the Wu Sisters.
History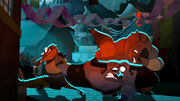 The future Master Storming Ox, Master Croc, and Thundering Rhino met in Jinzhou during a street fight, which ended in a three-way tie between the trio. Of greater note than the battle were some of it's observers: Master Oogway and the Wu Sisters, the latter trio having escaped from their separate prisons and reunited. Learning of this, Oogway determined that the errant Kung fu warriors might finally have a worthy cause to which to apply their skills. The unlikely band of four set out for the Hubei Volcano, only for the Wu Sisters and their new allies to attack Jinzhou in their absence. The city was left a burned ruin, and the pitiful plight of it's citizens convinced the returning trio of youths-who had become separated from Oogway-to abandon their selfish ways and complete the mission to stop the Wu Sisters themselves.
Gallery
Images
Coming soon!
Videos
Coming soon!
References
Community content is available under
CC-BY-SA
unless otherwise noted.