This article is a stub.
Not all information has been covered about this subject. You can help by expanding it!
Kira Kozu is a character in the Nickelodeon television series Kung Fu Panda: Legends of Awesomeness. He is a clam who became a rōnin and sought to take over Japan. He serves as the main antagonist in the episode "The Way of the Prawn".[2]
Biography
Earlier years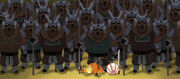 Coming soon!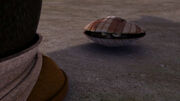 Coming soon!
Personality
Coming soon!
Fighting style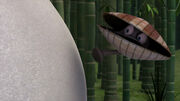 Despite being a clam, he could use his shell to attack. He even uses his shell to hold a sword and a set of arms to attack his prey.
Relationships
This section needs revising.
The content below could use some extra attention. You can help by editing it!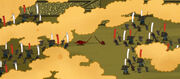 Kira and Yijiro were once comrades, but soon he betrayed the Ishida Clan and made his own army. Yijiro defeated Kira, but he escaped and Yijiro was on his trail. Ever since then, they have been enemies.
Po completely despises Kira and blames him for ruining his reputation.
Gallery
Images
Coming soon!
Videos
Coming soon!
Quotes
Coming soon!
References
Community content is available under
CC-BY-SA
unless otherwise noted.