Cobra Kai Season 4 - The Loop
Play Sound

This wiki has parent information for Kung Fu Panda 2.
Click the logo above to view ratings, content info and more on this particular media.
This article is out of universe from Kung Fu Panda.
This subject has been distinguished as part of the real world and therefore should not be taken as part of the fictional universe of the Kung Fu Panda franchise.
| | | |
| --- | --- | --- |
| " | Prepare For The Return Of Awesomeness. | " |
|   | —Official tagline |   |
Kung Fu Panda 2 is a 2011 3D American computer-animated action/comedy film and sequel to Kung Fu Panda. It was produced by DreamWorks Animation, distributed by Paramount Pictures, and directed by Jennifer Yuh Nelson. The original voice cast of the first film reprised their returning characters' roles, and were joined by new cast members Gary Oldman, Michelle Yeoh, Danny McBride, Victor Garber, Jean-Claude Van Damme, and Dennis Haysbert.
The film was released on May 26, 2011 in Real D 3D and Digital 3D. It received positive reviews, with critics praising its animation, voice acting, and character development. It was also a commercial success surpassing the original film and, like the original film, was the highest grossing animated feature film of the year. The film was nominated for multiple awards, including the 2011 Academy Award for Best Animated Feature.
Plot
Synopsis
In Kung Fu Panda 2, Po is now living his dream as the Dragon Warrior, protecting the Valley of Peace alongside his friends and fellow kung fu masters, the Furious Five. But Po's new life of awesomeness is threatened by the emergence of a formidable villain, who plans to use a secret, unstoppable weapon to conquer China and destroy kung fu. It is up to Po and the Furious Five to journey across China to face this threat and vanquish it. But how can Po stop a weapon that can stop kung fu? He must look to his past and uncover the secrets of his mysterious origins; only then will he be able to unlock the strength he needs to succeed.[5]
Summary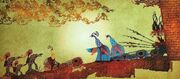 Long ago, Lord Shen, heir to the peacock clan that ruled over Gongmen City, sought to harness the power of fireworks as a weapon to fuel his aggressive ambitions of ruling over China. When he learned from the court soothsayer that "a warrior of black and white" would one day defeat him, Shen assumed she was referring to the giant pandas and had them exterminated to avert the prophecy. Horrified at this atrocity, Shen's parents exiled him. Feeling abandoned and betrayed, Shen vowed he would return one day to rule supreme.
Over twenty years later, Master Po is now living his dream as the Dragon Warrior, protecting the Valley of Peace alongside his friends and fellow kung fu masters, the Furious Five. However, Master Shifu's lesson to further Po's training to help him pursue inner peace is interrupted by a raid by wolves seeking all the refined metal they can steal from a village of musicians. Po and the Five arrive to stop them, but the wolves get away when Po is distracted by the sight of a symbol on the lead wolf's armor that triggers a flashback of his mother. Po asks his father where he came from, but all the goose can tell him is that he found Po as an infant in a vegetable crate behind his restaurant and adopted him.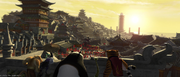 Afterward, Master Shifu receives word that Master Thundering Rhino, leader of the Kung Fu Council protecting Gongmen City, has been killed by Shen's new weapon, which threatens to destroy kung fu tradition. Po and the Furious Five are sent to stop him, but the journey is complicated by Po's troubling nightmares that he feels he cannot share completely with anyone, even with Tigress, whom he is growing increasingly close to. When they reach the city, Po and the Five find it completely under the control of Shen's forces and try to stealthily reach Masters Storming Ox and Croc in the prison in order to get their help to liberate the city. Unfortunately, both masters inexplicably refuse to leave their cell, citing their helplessness against Lord Shen's weapon, forcing Po and the Five to make the attempt alone. Po and the Five are then discovered by the wolf leader, who they chase to prevent him from alerting Shen, only to be ambushed by a massive force. Po surrenders, and the group is arrested. Tigress questions Po, but assures her that he is formulating a plan.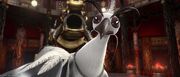 Placed in restraints, they are brought before Lord Shen in his tower. The emperor peacock refuses to believe that a goofy panda could possibly threaten him, while the Soothsayer realizes Po has no knowledge of what the peacock did to his people. As per their plan, Po and the Five free themselves and destroy the peacock's large cannon. Unfortunately, Po is again distracted by flashbacks upon seeing the same symbol as before on Shen's plumage, allowing the peacock to escape. The heroes discover, to their horror, that Shen has built a whole arsenal of cannons and they barely escape the tower while Shen destroys it with a salvo attack. Hiding in the prison, Tigress demands to know why Po froze and says the Five will leave him behind if he can't be counted on in battle. The panda at first refuses to confess about his flashbacks, but ultimately relents and tells her that Shen knows what happened to his parents. He says that Tigress probably can't understand, but that he has to know the answer and will confront Shen with or without the Five. Tigress then suddenly hugs Po, much to the surprise of everyone else, and tells him that she does understand, but can't watch her friend die. She tells him to remain with Masters Storming Ox and Croc for his own protection while she and the others attempt to stop Shen's cannons at the source.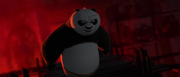 Still determined to find out what Shen knows, Po ignores Tigress and decides to break into the cannon foundry to question Shen himself about his memories, inadvertently foiling the Five's attempt to destroy it. In the ensuing battle, Po faces Shen who acknowledges that he was in Po's parents' village; he sadistically claims that Po's parents abandoned him. Po is emotionally shattered, Shen evilly smiles before he blasts the stunned panda point-blank with a giant cannon. Po rockets out of the factory and plunges into the river to his apparent death, much to the shock and horror of the others. Back in the Jade Palace, Shifu wakes up and is horrified by Po's apparent death, before sadly watches at the Gongmen City.
Wounded and unconsciously floating down the river, Po is still alive when he is rescued by the Soothsayer, who was exiled earlier by Shen. When he regains consciousness, the Soothsayer tells him that he is in the remains of the village where he was born and Po's unconsciously repressed memories fight to come to the surface. Guided by the Soothsayer to embrace the past and let them rise, Po's memories come back as he witnesses the destruction of his village and his mother's flight from Shen's forces. Given the lie of Shen's cruel claim of abandonment, he sees instead that his mother endangered herself to save him by hiding him in the produce crate and drawing the pursuers away, seemingly to her death. Po's memories move to his adoption by the loving Mr. Ping and how he conquered his deep insecurities to achieve his most cherished dreams with help of his new friends, the Masters. At that, Po comes to realize that his past does not define him as much as his present choices, allowing him to attain a measure of inner peace even while he prepares to return to Gongmen City to confront the murdering peacock.
In the city, Lord Shen captures the Five trying to stop his war fleet from departing and prepares to kill them as an example of his power as soon as his ships clear the city harbor. However, Po arrives to confront Shen and manages to free the Five, beginning a massive battle to blow up Shen's ship before it reaches the harbor that soon includes Master Shifu who also convinced Masters Storming Ox and Croc to participate. The attempt to stop the fleet fails and the heroes are left floating in the bay amongst the wreckage. Regardless, Po, finding footing on a floating piece of shattered timber, stands his ground against Shen and astounds everyone when he gauges Shen's cannon fire and redirects it back at his armada. In doing so, Po devastates the fleet and his cannons through kung fu alone and confronts Shen on his damaged flagship. There, Po rejects that his horrific past dominates his spirit and urges Shen to come to terms with his own grievance with his parents. However, Shen refuses the entreaty and hatefully attacks the Dragon Warrior. In the melee, Shen unintentionally slashes the ropes holding up his cannon, which then falls right at top of Shen. The peacock closes his eyes and accepts his fate as the weapon crushes him. Po soon reunites with the other Masters and the city celebrates Po's victory with fireworks.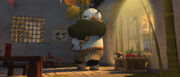 Back in the Valley of Peace, Po reunites with Mr. Ping and lovingly proclaims him to be his father. However, at that very moment in a distant hidden area that contains a whole village of giant pandas, Po's biological father is suddenly aware that his son is alive.[6]
Voice cast
All of the returning voice actors reprised their previous character roles, and were also joined by new characters.[7]
Production
The following October after the first film's release in June 2008, DreamWorks Animation announced plans for a second film.[8] Jennifer Yuh Nelson, who was head of story for the first film, was hired to direct the sequel. The original film's cast members reprised their voice roles. Like the other DWA films beginning production in 2009, Kung Fu Panda 2 was produced in DreamWorks' stereoscopic 3-D technology of InTru 3D.
Jonathan Aibel and Glenn Berger, screenwriters and co-producers for the first movie, returned to write and co-produce the sequel,[9] with Charlie Kaufman consulting[10][11] on the screenplay early on in the development process.[12]
In Kung Fu Panda 2, the production crew showed increased familiarity with Chinese culture. In 2008, after the release of Kung Fu Panda, DreamWorks CEO Jeffrey Katzenberg and other DreamWorks members visited the city of Chengdu, which is considered the "panda hometown".[13] In addition to seeing real pandas, crew members learned about the local culture. Katzenberg has stated that Kung Fu Panda 2 incorporates many elements of Chengdu in the film.[14] The film's landscape and architecture also found inspiration from those found at Mount Qingcheng, a renowned Taoist mountain.[15] In an interview with Movieline, Berger stated that "we never really thought of this as a movie set in China for Americans; it's a movie set in an mythical, universalized China for everyone in the world."[16]
Marketing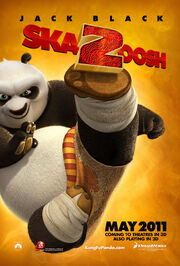 The first official teaser trailer was shown with both 2D and 3D versions of Megamind, Harry Potter and the Deathly Hallows: Part 1, Tangled, and Justin Bieber: Never Say Never. The trailer was then released on the Internet on November 8, 2010, and was eventually featured on the Megamind DVD.
On December 30, 2010, DreamWorks released the first television spot for the movie. Another television spot was released first on the Internet February 1, 2011, and then was featured during the pre-game hours of the Super Bowl XLV on February 6.[17]
On February 27, 2011, another television spot aired during the 83rd Academy Awards.
The film's first full-length theatrical trailer was featured in showings of Rango, Mars Needs Moms, Diary of a Wimpy Kid: Rodrick Rules, Hoodwinked Too! Hood vs. Evil, Rio, and Hop. The trailer was uploaded on the Internet by DreamWorks Animation on March 4, 2011.
On April 25, 2011, DreamWorks announced its current workings with their marketing, licensing, and promotional partners in support of the film. DreamWorks Animation's Head of Promotions and Marketing Services Susan Spencer disclosed that "[the film] is now being promoted across many platforms with one-of-a-kind campaigns powered by television, print, outdoor, online, on-shelf, social media, in-theater promotions as well as unique events and offers[.]"[18] Such promotional campaign partners include AirHeads, AT&T, Best Buy, General Mills, HP, Hint Water, House Foods America, Intel, McDonald's, Sun-Maid, and Target. Other featured merchandising licensees include Hallmark, Mattel, THQ, VTech, as well as various others in the fields of technology, apparel, and publishing.[19]
DreamWorks also made an effort to promote the movie by throwing a Facebook parade entitled "The Awesomest Parade Ever", where registered users could add photos of themselves and their friends participating in a one-hundred-second online parade.[20] On May 2, 2011, as a reward to the fans for reaching one million marchers, DreamWorks released the first official clip from the film.
Release
Kung Fu Panda 2 was screened at the 2011 Cannes Film Festival in early May before its commercial release.[21] The film was released in the United States on May 26, 2011, the United Kingdom on June 10, 2011, and in Australia on June 23, 2011. It was also released in IMAX theaters in the EMEA region.[22]
Home media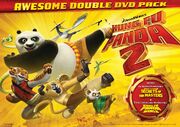 The film was released on DVD and Blu-ray on December 13, 2011 in the U.S.[23][24] The special features include a sneak peek episode of Kung Fu Panda: Legends of Awesomeness, the short film Secrets of the Masters, cast interviews, filmmakers' commentary, featurettes such as "World of DreamWorks Animation", "Panda Stories: Inside the World of the Giant Panda", "Kung Fu Shuffle", "Nǐ Hǎo", "Fortune Telling", and more.[25]
Special features
Audio commentary
Deleted scenes
"Panda Stories"
"Kung Fu Shuffle"
"Ni Hao"

HD Bonus Content:

"Animation Inspiration"
"The Animators' Corner"
Trivia track
Reception
Critical
Kung Fu Panda 2 received positive reviews, with critics praising its animation, voice acting, and character development. It was also a commercial success surpassing the original film and, like the original film, was the highest grossing animated feature film of the year. As of 2012, it is the highest-grossing film directed by a woman.[26]
The film received a "Certified Fresh" score of 81% positive reviews on Rotten Tomatoes, based on reviews from 167 critics and a rating average of 6.9 out of 10, with the consensus being that "[t]he storyline arc may seem a tad familiar to fans of the original, but Kung Fu Panda 2 offers enough action, comedy, and visual sparkle to compensate."[27] It also received a weighted average score of 67 out of 100 at Metacritic, based on 31 reviews from mainstream critics.[28]
Variety called the film "a worthy sequel that gets an extra kick from the addition of dynamic 3D fight sequences"[29] while The Hollywood Reporter similarly praised the film.[30] Roger Ebert gave the film 3.5 out of 4 stars, praising the sequel as superior to the original and as an ambitious extension of the previous story.[31]
Some critics noted the influences of executive producer Guillermo del Toro's works in the film's darker themes,[32] and Jim Tudor of Twitch Film describes that with del Toro on board, the film "effectively probes deeper into Po's emerging hero's journey and personal issues, evoking a truly fulfilling Campbellian archetype, but also remains fully viable as mainstream entertainment suitable for all ages."[33]
As with the first film, the animation has been praised. Frank Lovece of Film Journal International describes the film as "truly beautiful to behold" and states it "works on both aesthetic and emotional levels."[34] Betsy Sharkey of the Los Angeles Times writes that "Panda 2 is not just wall-to-wall animation, it is artistry of the highest order."[35]
Many critics have praised Gary Oldman for his voice acting and developed characterization of main antagonist Lord Shen, with some comparing him favorably to Ian McShane's voice performance as Tai Lung in the original film. Angie Errigo of Empire Magazine described Oldman as "fabulous as the feathered fiend and his character animators do his performance proud with a stunning, balletic fighting style, the fan tail flicking with lethal fascination."[36] Jason Best of What's on TV writes, "Following Ian McShane from the first film as the obligatory British thespian to fill the role of villain, Gary Oldman brings silky menace to the part of the evil Shen."[37] Kyle Smith of the New York Post also writes, "It's a bit hard to be terrified of a peacock (the snow leopard in the first movie was way more sinister). But the animators are in charge, and they succeed in dazzling with Lord Shen's look."[38]
Box office
The film grossed $165,249,063 in the North America, along with $500,443,218 in other territories for a worldwide total of $665,692,281, surpassing the original Kung Fu Panda during late-August 2011 but the domestic gross didn't surpass the original.[4] In total, 3D contributed approximately 53% of the film's worldwide gross.[39] Worldwide, it is the highest-grossing 2011 animated film and the sixth highest-grossing film of 2011.[40] Overall, it is the 14th highest-grossing animated film and the 69th highest-grossing film.[41] On its first weekend, it earned $108.9 million worldwide, ranking third behind Pirates of the Caribbean: On Stranger Tides and The Hangover Part II.[42] On August 30, 2011, Kung Fu Panda 2 surpassed Mamma Mia!'s worldwide box-office total of $609.8 million to become the highest-grossing film ever directed by a woman.[26]
The film also helped DreamWorks Animation raise its second quarter revenue of $218.3 million and a profit of $34.1 million for the three-month period that ended June 30, 2011, which was an improvement over the same period a year ago when the company posted revenue of $158.1 million and a $24 million profit.[43]
In North America
In the United States and Canada, Kung Fu Panda 2 earned $5.8 million on its opening day (Thursday, May 26, 2011), ranking second behind The Hangover: Part II.[44] On the following Friday, the film earned $13.1 million, which was behind the original's $20.3 million opening Friday.[45] Over the three-day weekend (Friday-to-Sunday), the film earned $47.7 million, which was behind the first movie's $60.2 million start.[46] The film went on to make $13.2 million on Memorial Day, bringing its four-day weekend total to $60.9 million.[47] Overall, the film made $66.7 million in its first five days, but it still trailed behind the original film's five day opening of $72.6 million.[48] Altogether, Panda 2 earned the same amount of money in five days as the original Panda did in four. However, the opening still came in at the high end of DreamWorks Animation's expectations.[49] It also had the sixth highest opening weekend for a film that did not debut at #1.[50]
Although Kung Fu Panda 2 has outgrossed some of DreamWorks Animation's previous films like Shark Tale, Over the Hedge, Megamind, and Bee Movie in North America, it has not performed as well as some people expected.[51][52] Reasons cited for this relative under-performance of the film in the US and Canada included inadequate marketing by DreamWorks Animation as noted by analyst Tony Wible of Janney Capital Markets prior to release who observed the film was tracking poorly online compared to its predecessor.[51] Another reason cited after release was a growing American and Canadian marketplace rejection of 3D presentation with its coupled surcharge in movie ticket prices apparently making the film too expensive for many film patrons. As a result, only 45% of the premiere weekend box office earnings of the film's came from screenings in the 3D presentation format as opposed to 60% for Shrek Forever After in 2010.[53] DreamWorks Animation CEO Jeffrey Katzenberg also attributed to the film's under-performance in these territories for being released the same weekend as The Hangover Part II, a film that an unexpectedly large number of people went to see.[52]
International
The film proved a major international success, pulling in $55.5 million on the same weekend as its North American debut, topping the box office in nine out of eleven countries in which it was released. It ranked third overall behind Pirates of the Caribbean: On Stranger Tides and The Hangover: Part II. It reached number one at the overseas box office on its third weekend, opening at number one in of each of its 17 territorial premieres, including the United Kingdom, Mexico and Brazil.[54] It retained first place overseas on the following weekend with $58.2 million, opening at number one in a few more territories including Germany, France, and Spain and holding well in markets like Mexico.[55]
In Asia
The film had exceptional earnings in Asian territories. In China, its highest-grossing market after North America, it had a $19.3 million two-day weekend, setting a new record for a Saturday opening day and a record for a two-day opening weekend in the country.[56] It earned $91,531,119 by July 6, 2011, making it the highest-grossing animated movie of all time in the country, surpassing previous record-holder Kung Fu Panda ($26,024,298).[57]
In Malaysia, it scored the largest opening weekend of all time for an animated movie ($1,663,199) and became the highest-grossing animated movie of all time, surpassing Tangled ($3 million) by its second weekend.[58]
In the Philippines the film earned $1,958,888 on its opening, the largest for an animated title. It became the highest-grossing animated title, surpassing Toy Story 3 ($3.4 million) by its second weekend.[59]
In Singapore, with $2,627,425, it made the largest opening weekend of all time. Surpassing the original Kung Fu Panda ($4.3 million) by its second weekend, it became the largest animated feature of all time in the country.[60]
In South Korea, it earned $12,802,267 upon release, scoring the fourth largest opening weekend of all time and the biggest for animated title.[61]
In Thailand, it made the largest opening for an animation movie ($950,590) and became the highest-grossing animated film of all time in total earnings as well. Both records were taken from Toy Story 3.[62]
In Vietnam, it made two records of being the highest-grossing film ever ($2,287,299)[63] and making the hugest opening with $1 million in its first five days, surpassing Avatar.[64]
Accolades
Soundtrack
Video game
On May 23, 2011, THQ released a video game based on the movie.[65] The game is available for four main platforms: PlayStation 3, Xbox 360 Kinect, uDraw feature for the Wii, and Nintendo DS.
Prequel
A 52-paged comic book prequel to the film was released by Ape Entertainment on April 26, 2011. The book features four different stories, which take place sometime before the events of Kung Fu Panda 2.[66]
Sequel
A third film was released on January 29, 2016.[67] It is directed again by Jennifer Yuh Nelson[68] with the added assistance of co-director Alessandro Carloni,[69] and is produced in co-production with Oriental DreamWorks.[70]
In addition, according to Jeffrey Katzenberg, there are more Kung Fu Panda sequels planned, with a possibility of six films total.[71]
Trivia
General
In development
The film was originally going to be called Kung Fu Panda 2: Pandamonium, which then changed to Kung Fu Panda 2: The Kaboom of Doom before sticking with its current simplistic name.[73]
Charlie Kaufman—screenwriter of movies like Eternal Sunshine of the Spotless Mind, Confessions of a Dangerous Mind, and Being John Malkovich—assisted in polishing the movie's script.[1]
The fight in the Artisan Village mirrors many of the same movements that were in Po's dream in the first film.
The cast was reported to include a character named Master Skunkman voiced by James Woods, but this character was scrapped for unknown reasons.[74]
During development for the first film, Po's final training "test" was to catch a droplet of water growing from a mystical root found in a sacred chamber underneath the Jade Palace.[75] This idea was later cut during production, but made its way into the second film as a test of inner peace.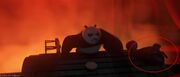 As an Easter egg for the film, the wok that Tai Lung was hit with by Po in the first film was briefly seen on the conveyor belt in the Fireworks Factory.
The film used over 99 terabytes of data and took more than 55 million render hours to make.[76]
In popular culture
Characters from the film were parodied in an episode of MAD entitled "Kung Fu Blander".
The scene where Po and the Furious Five escape Shen's forces in a dragon costume is a reference to Pac-Man. Similarities to the popular arcade game include the maze-like streets of Gongmen City, the "eating" of obstacles/pursuers, and the background music imitating Pac-Man's eating sounds.
Gallery
Posters
Promos
Stills
Concept art
Trailers
TV spots
Clips
Featurettes
Behind the scenes
Interviews
Quotes
| | |
| --- | --- |
| "Ah, my old enemy... [Looks up to a long staircase.] Stairs...!" | |
See also
References
External links
Related Discussions