Doctor Strange in The Multiverse o Madness - The Loop
Play Sound
This article is in need of improvement.
One or more aspects of this article may need some extra attention. Look through the article to see what could use some improvement.

This wiki has parent information for Kung Fu Panda 3.
Click the logo above to view ratings, content info and more on this particular media.
This article is out of universe from Kung Fu Panda.
This subject has been distinguished as part of the real world and therefore should not be taken as part of the fictional universe of the Kung Fu Panda franchise.
| | | |
| --- | --- | --- |
| " | Grab Destiny By The Dumplings. | " |
|   | —Official tagline 2 |   |
Kung Fu Panda 3 is a 2016 3D American-Chinese computer-animated action/comedy film and second sequel in the Kung Fu Panda franchise. It is produced by DreamWorks Animation and Oriental DreamWorks, and it is distributed by 20th Century Fox. It is directed by Jennifer Yuh Nelson and Alessandro Carloni, written by Jonathan Aibel and Glenn Berger, produced by Melissa Cobb, and executive produced by Guillermo del Toro[5] and others.[6] It stars the franchise's original cast members, as well as three new ones: Bryan Cranston, Kate Hudson, and J.K. Simmons.
The film was released in theaters on January 29, 2016 in North America and China,[7] March 11 in the United Kingdom and Ireland,[1] and March 24 in Australia.[2] It grossed a total of $518.6 million worldwide.[4]
The film was released on Digital HD on May 13, 2016, and later released on DVD and Blu-ray on June 28, 2016.
Plot
Synopses
The film ... follows Po, the chosen one, as he continues on his journey mastering the art of kung fu... and noodle slurping. Continuing on his now legendary adventures of awesomeness, Po must face two hugely epic, but very different threats: one supernatural and the other a little closer to home.[8]
In 2016, one of the most successful animated franchises in the world returns with its biggest comedy adventure yet, KUNG FU PANDA 3. When Po's long-lost panda father suddenly reappears, the reunited duo travels to a secret panda paradise to meet scores of hilarious new panda characters. But when the supernatural villain Kai begins to sweep across China defeating all the kung fu masters, Po must do the impossible—learn to train a village full of his fun-loving, clumsy brethren to become the ultimate band of Kung Fu Pandas![9]
Summary
This section needs revising.
The content below could use some extra attention. You can help by editing it!
In the Spirit Realm, Master Oogway is meditating peacefully when he is attacked by a Spirit Warrior: a bull named Kai who fought against Oogway five hundred years previously. The two battle, and Oogway learns that Kai has increased his strength by stealing the Chi of every Kung fu master in the Spirit Realm, and only needs Oogway's to become strong enough to return to the mortal realm. Claiming victory, Kai is nevertheless warned that Oogway was never intended to defeat him, but that he has set someone else on that path. Meanwhile, in the Valley of Peace, Po and the Furious Five learn that Shifu will no longer be responsible for overseeing their training: that responsibility now falls to Po.
After a disastrous first session, Shifu reveals to Po that he knew the Panda was unprepared, but did it so that Po could achieve growth. After noting that Po has no real concept of his role as the Dragon Warrior, Shifu explains that he must grow if he is ever to reach the point that Shifu has: that of embarking on the quest to master Chi itself. Kai then arrives in the mortal realm and, after learning that he has been forgotten by China, uses some of his collected Chi to create living statues made of Jade whom he dispatches to hunt down Oogway's legacy. Po, struggling to come to terms with Shifu's words and his own self-doubt, then has an unexpected reunion with his biological father, Li Shan, who reveals that other Pandas survive as well in a hidden village, and that he was informed of Po's survival by a message "from the universe."
Sadly, Kai's warriors soon arrive to attack the valley, leaving Li concerned for his son's safety. After learning of Kai and his powers and history as a former comrade of Oogway's who turned to stealing Chi after he and Oogway encountered ancient Pandas, the heroes determine that Po must become a Master of Chi, and Li offers to train him. The two Pandas set out for the village and are joined by Mr. Ping, who is troubled by Li Shan's return and what it could mean for his and Po's relationship. Upon reaching the village, Po is overjoyed to meet so many other Pandas, and feels that he finally knows who he is.
Shifu dispatches Mantis and Crane to determine Kai's whereabouts, only for the pair to fall victim to him along with Masters Bear, Croc, and Chicken. Soon all the masters but the remaining Furious Five, Shifu, and Po have fallen to him, and Kai arrives at the Jade Palace eager to complete his collection. After Viper and Monkey are handily defeated and Shifu is left unable to fight, the senior master orders Tigress to go and warn Po of his imminent danger before becoming another captive of Kai's. Tigress journeys to the village and informs the Pandas of Kai's approach, and Li then admits that he has lied to Po about knowing the ancient Chi techniques of the Pandas. Furious, Po determines to face Kai and destroy him using the Wuxi Finger Hold, but is informed by Tigress that it cannot be done alone.
After a pep talk from Mr. Ping, Li Shan offers himself and the other Pandas to Po's tutelage so that he will have an army with which to face Kai's Jade warriors. Following some rigorous-and highly unconventional-training, the Pandas face Kai's assault, and manage to disorient him by attacking his army. Unfortunately, Po's attempt to finish him fails, as the Wuxi Finger Hold cannot affect immaterial beings such as Kai has become. However, Kai's comments on the matter lead Po to a realization, and he manages to get Kai back into the Spirit Realm by grabbing ahold of him and then using the hold...on himself. However, Kai then proceeds to capture the Dragon Warrior and begin the process of collecting his Chi.
Back in the Panda village, Po's allies manage to employ the Chi technique, having been inspired by Po's leadership and sacrifice. The result frees Po from Kai's grasp and enables him to unlock his own Mastery of Chi, which he uses to defeat Kai and free the Chi he had previously taken. He then meets with Oogway, who reveals that he chose Po to be the Dragon Warrior because he believed that Po could unite Kung fu's past with its future. Po then returns to the mortal realm as a Master of Chi, to Shifu's awe and chagrin. He then instructs the Pandas, Kung fu Masters, and residents of the Valley of Peace in the technique, which spreads good Chi across the land.
Voice cast
Main cast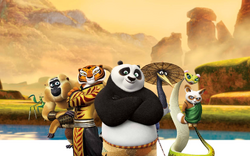 Pandas
Other
Production
Pre-production
"
Having the wonderful Jennifer Yuh Nelson return as director is incredibly exciting for the studio. Under her guidance I have no doubt that our returning cast and our outstanding new voice talent will take the franchise's story to the next level.
"
 
—Former DreamWorks Animation

CCO

Bill Damaschke[8]
 
On April 26, 2012, Jack Black first spoke to the press about the possible development of another Kung Fu Panda sequel: "I think they're writing it, writing hard as we speak," he shared. "I'd love to [return]. Yeah, it's a blast."[10] The sequel was then officially confirmed on July 12, 2012 at the San Diego Comic-Con by Bill Damaschke, chief creative officer and co-president of production at DreamWorks Animation. A fan at the convention had asked him about the tease right before the credits in Kung Fu Panda 2, and if it might possibly lead to a sequel. Damaschke paused and then answered, "Yes, there will be a Kung Fu Panda 3."[11]
The film is being majorly produced and distributed by DreamWorks' new Shanghai-based company called Oriental DreamWorks (ODW). According to Li Huaiyu, chief investment officer of China Media Capital (one of the founders of Oriental DreamWorks), Kung Fu Panda 3 "has been given priority on the agenda of ODW, which is set to begin operations later this year." Li also shared that "it's likely for ODW to participate in the distribution of Kung Fu Panda 3."[12] Approximately one-third of the film is being produced at ODW, and the remainder at the main DreamWorks Animation headquarters in Glendale, California.[13]
On November 12, 2012, executive producer Guillermo del Toro commented on the film's development:
We basically talked about where we would go in the third one in the second one. We really finished [Kung Fu Panda 2] with the real father of Po saying 'My son is alive,' so that allows us to continue that arc of Po as a character. All I can say is the bad guy in the third one is possibly the most formidable villain in the series. ... We finished an outline, we presented a character design, we presented a couple of sequences in storyboard, and we're very hard at work on a screenplay.[14]
On April 9, 2013, DreamWorks announced the addition of three new cast members (Bryan Cranston, Mads Mikkelsen, and Rebel Wilson), as well as the film's new release date of December 23, 2015. In addition, some of the film's plot elements were also revealed.[8]
On June 17, 2013, one of the film's Shanghai-based partners (Peter Li) announced and confirmed that production on the film would officially commence in August.[15]
On July 10, 2013, del Toro shared a brief update on the film in an interview, mentioning that it's "going great. [It's] very different from the second one. We came up with a really good idea [for a character]. It sort of links with the ending of the second one."[16] Two days later, on July 12, ODW vice president Shuai Min disclosed another brief update. "The script has been finished and production will soon start. What the work demonstrates is not just 'Chinese elements,' but profound Chinese culture and rich local flavor."[17]
Mid-production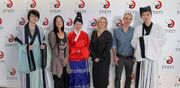 In October 2013, the film's production team spent a week in Shanghai with their production partners at Oriental DreamWorks. While there, they were treated to some authentic Chinese experiences by the ODW team to help them incorporate ideas for the film; these included "a tea ceremony, incense ceremony, high kicking Kung Fu action, as well as wedding ceremonies from the Tang, Song, and Qing dynasties."[18]
On May 21, 2014, DreamWorks Animation CEO Jeffrey Katzenberg spoke to the press briefly about the film. Addressing the comedic value of his company's films, he stated that "'Kung Fu Panda 3' ... is actually more broadly comedic. It's actually closer to the first movie than the second movie; the second was dealing with Po's past and had dark elements to it."[19]
On December 11, 2014, it was announced that the film will move back to its original release date of March 18, 2016.[20][21]
On February 24, 2015, it was reported that Alessandro Carloni had joined Jennifer Yuh Nelson as a co-director. According to the report, Carloni (an animation supervisor on the first film and a story artist on the second) joined Yuh following her request to strengthen "the director's bench" to ensure that the film is completed in a timely manner.[22]
On March 8, 2015, a movie reviewer reported seeing a "prologue" teaser of the film at a screening of Home.[23] It is currently unknown when this teaser will publicly show.
On April 14, 2015, it was announced that the film will be moved up two months from its original release date of March 18, 2016, to its new and current release date on January 29, 2016.[7]
During the 2015 Beijing International Film Festival, Nelson and Katzenberg made separate appearances at their two respective panels. During Nelson's panel, she discussed how Kung Fu Panda 3 has gained a greater level of authenticity thanks to their co-production with Oriental DreamWorks. "The weight of accuracy had been difficult for us. Previously [we] had to do things through research and extrapolate. Now we have Chinese people as creators. We have some 200 artists working with us currently. They are not just executing, they are designers." She also revealed that the film will be fully animated to be lip-synched in two versions: one for Chinese, and one for English. During Katzenberg's panel, he revealed that the film has reached a new degree of detail thanks to the latest animating technology. It will currently take "over 60 million hours of rendering, a figure that compares with 20 million for the first film and 50 million for the second."[24]
Post-production
Music
This section is a stub.
There is content missing from this section. You can help by adding some in!
On July 25, 2014, it was announced that Hans Zimmer would return to score the film.[25]
Marketing
This section is a stub.
There is content missing from this section. You can help by adding some in!
Coming soon!
Release
Kung Fu Panda 3 was originally scheduled to release worldwide on March 18, 2016.[26] The date was later confirmed for an earlier release date of December 23, 2015.[8] However, to avoid direct competition with Star Wars: The Force Awakens, the film was later announced to be moving back to its original March release date.[20][21] The film then made another release date change by moving up two months to January 29, 2016.[7]
The film was simultaneously released in January in North America and China,[27] whereas many other countries and territories still had a March release date. The film opened in the United Kingdom and Ireland on March 11,[1] and in Australia on March 24.[2]
Kung Fu Panda 3 premiered in Hollywood and in many other screening locations around North America on January 16, 2016.[6]
Home media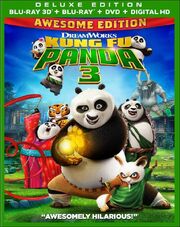 The film was released on Digital HD on May 13, 2016, and later on DVD and Blu-ray on June 28, 2016. The releases include special features, games, deleted film scenes, and a new animated short called Panda Paws.[28]
Special features
"Everybody Loves a Panda Party"
"Everybody Loves a Panda Party, Karaoke with Po"
"Po's Posters of Awesomeness"
"Make a Panda Party Paper Pal"
"Play Like a Panda"
"The Origin of 'Skadoosh'"
"Faux Paws: Deleted Scenes"
Gallery concept art
Theatrical trailer

Exclusive releases:
Reception
This section is a stub.
There is content missing from this section. You can help by adding some in!
Box office
As of June 14, 2016, Kung Fu Panda 3 has grossed $143.4 million in North America and $375.2 million in other territories for a worldwide total of $518.6 million.[4]
In North America
Coming soon!
In Asia
Coming soon!
International
Coming soon!
Critical
This section needs revising.
The content below could use some extra attention. You can help by editing it!
Kung Fu Panda 3 received positive reviews from critics and audiences alike. On Rotten Tomatoes, the film received a rating of 86%, based on 146 reviews, with an average rating of 6.8/10. The site's critical consensus reads, "Kung Fu Panda 3 boasts the requisite visual splendor, but like its rotund protagonist, this sequel's narrative is also surprisingly nimble, adding up to animated fun for the whole family". On Metacritic, the film has a score of 66 out of 100, based on 34 critics, indicating "generally favorable reviews". In CinemaScore polls, cinema audiences gave the film an average score of "A" on an A+ to F scale. Women as well as under 25 gave the film an "A+" grade.
IGN gave the film score of 8.5 out of 10, saying, "Kung Fu Panda 3 offers a fun-filled, action-packed conclusion to DreamWorks' endearing animated series." Screen Rant awarded it 2.5 out of 5, saying "At times, it's a beautiful movie, filled with likable characters, as well as digestible gags, that should keep kids smiling and giggling – but, with a plethora of more ambitious animated options out there, passable might not justify the money (or time) required for a viewing." Glenn Kenny of RogerEbert.com awarded it 3 out of 4 stars, saying "In spite of its abundant action – and for all the interspecies mashups, this is as much an action-adventure animated movie as it is a funny-animal animated movie – is a pretty relaxing experience for the adult viewer." Entertainment Weekly awarded it a score of B, saying it was "Just complicated enough to reward steady viewers and just simple enough for parent escorts to enjoy without much prior knowledge." The Hollywood Reporter awarded it a positive review, saying "While the storyline, in which Jack Black's dumpling-downing Dragon Warrior is reunited with his biological father, doesn't quite fulfill its prophecies, dramatically speaking, visually speaking it's all quite impressive — one of those very rare animated features that completely justifies its 3D glasses." The Escapist awarded it 3 out of 5, saying "It's a perfectly fine film, and if all you want is "more of the same," it won't disappoint." Forbes awarded it a mildly positive review, saying "While visually gorgeous and generally entertaining, this third installment of the DreamWorks Animation franchise is a comedown from the first two superb entries." Variety also awarded it a positive review, saying "A winning lightness of touch prevails in this delightful continuation of the durable DreamWorks franchise."
Accolades
Soundtrack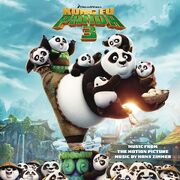 The film soundtrack is scored by Hans Zimmer[25] and features performances from renowned Asian musicians, with the most notable being Taiwanese pop singer Jay Chou, who sings the film theme song.[29] The soundtrack was released on January 22, 2016.[30][31]
Video game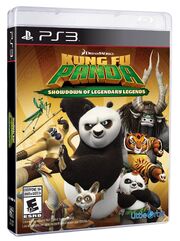 A brawler game based on the Kung Fu Panda franchise was released December 1, 2015 and features characters and locations from the film.
Prequel
A short film created by DreamWorks Animation was released with Kung Fu Panda 3's home video releases.[28] It features new film characters Mei Mei and Bao performing against each other in auditions for the Spring Festival.
Planned sequels
According to former DreamWorks Animation CEO Jeffrey Katzenberg in 2010, there are more Kung Fu Panda sequels planned for the franchise, with a possibility of six films total.[32]
Trivia
Gallery
Posters
Promos
Stills
Behind the scenes
Concept art
Trailers
TV spots and ads
Clips
Featurettes
Related vlogs
B-rolls
Interviews
Other videos
Quotes
"The Weight Is Over."


—Official tagline 1




"Grab Destiny By The Dumplings."


—Official tagline 2




Disembodied voice: "I... am your father."

Po: "Uh, what?"

[The disembodied voice is revealed to be Li's; he is crawling up the Jade Palace stairs, gasping for breath.]

Li: "I... am your father! [He turns over tiredly.] What's with all the stairs?"

Po: "Who are you?"

Li: "I'm Li Shan. I'm looking for my son."

[ Mr. Ping and a crowd of customers gasp.]

Po: "You lost your son?"

Li: "Yes. Many years ago."
Po: "I lost my father."
Li: "I'm very sorry."
Po: "Thank you."
[There's a long silence as the crowd looks from one to the other in anticipation.]

Li: "Well... good luck to you."
Po: "You too. I hope you find your son."
Li: "And I hope you find your father."
[The two quietly depart while the crowd sighs in disbelief.]

See also
References
External links
Related Discussions