Wiki Targeted (Entertainment)
Play Sound
This article contains information about a future release.
The content here may contain speculation or rumored information. As such, it may change significantly as the product release approaches and more accurate information becomes available.
This article is out of universe from Kung Fu Panda.
This subject has been distinguished as part of the real world and therefore should not be taken as part of the fictional universe of the Kung Fu Panda franchise.
Kung Fu Panda Spectacular Live (also called Kung Fu Panda Spectacular) is a developing live show that features characters from the Kung Fu Panda franchise. The show is being produced and developed by Broadway Asia in collaboration with DreamWorks Theatricals.[1]
Synopsis
In an exciting new adventure based on DreamWorks' sensational Kung Fu Panda films, Po's role as the Dragon Warrior is put to the test. By combining the magnificent artistry, animation and storytelling of DreamWorks, KUNG FU PANDA SPECTACULAR will transport audiences into an amazing world of acrobatics, martial arts and multimedia visual storytelling.[2]
Cast
* Character list obtained here.
Production
Announcement
The show's re-launch was announced on March 12, 2019, under the Asia Pacific production company Broadway Asia and with five-time Tony Award winner Susan Stroman as its director and choreographer. She commented that the show "will be an exciting new experience for audiences of all ages – as it incorporates storytelling, state-of-the art projection mapping and video design, immersive aerial and acrobatics as well as extraordinary puppetry and martial arts. ... The hilarious and heart-warming characters from the films will come to life in an extraordinary action filled live performance."[1]
The show's creative team consists of well-renowned names in the global live entertainment industry: David Thompson as a co-conceiver alongside Stroman, Michael Curry as the character puppet designer, William Ivey Long as a costume designer, Ray Winkler from Stufish as the scenic designer, Ken Billington as the lighting designer, and 59 Productions for the projection and video design. The show will also be featuring the franchise's original film score composed by Hans Zimmer.[1]
Auditions
Coming soon!
History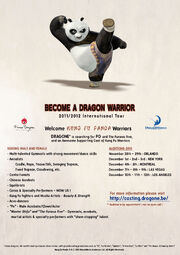 DreamWorks Animation announced in May 2009 their plans for the show, collaborating with Franco Dragone Entertainment Group to help make it happen. According to DreamWorks Animation COO Ann Daly, they expected the show to result in a "totally new and inventive live entertainment experience for family audiences."[4]
Previous auditions for finding the roles of Po and the Furious Five were held in various locations in the United States in December 2010. It is unknown what resulted from the auditions.
In late 2011, after going behind closed doors since the 2010 casting, Franco Dragone Entertainment Group announced the production halt on the show and the indefinite postponing of all audition dates. A new casting auditions poster had previously confirmed audition dates for January 2012, but were eventually cancelled following this announcement:
Given the immense innovation in development for 'Kung Fu Panda Arena Spectacular,' DreamWorks Theatricals and the Franco Dragone Entertainment Group have made the difficult decision to delay the production's launch date. It is the ambition of both companies to give the show the appropriate amount of time it needs to recognize its fullest creative potential. All auditions have been postponed indefinitely.[5]
Trivia
The show was originally called Kung Fu Panda: Arena Spectacular and was being developed by Franco Dragone Entertainment Group. It was expected to be ready for international touring in 2011 in order to time around the theatrical release of Kung Fu Panda 2,[4] but there were multiple changes in its auditions dates. It eventually halted its production and postponed all audition dates indefinitely.[5]
Gallery
Images
Videos
References
External links