Current featured location
Noodle Shop
Time featured: March 9, 2011 -- Present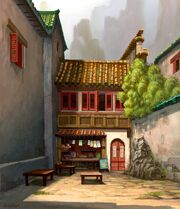 The
Noodle Shop
is a popular
noodle restaurant
located in the
Valley of Peace
, serving as both a restaurant and home to its owners, the Ping family. Won by
Mr. Ping's grandfather
(
Po
's adoptive great-grandfather) four generations ago, the shop currently serves as a family business, protected with a "secret ingredient" in the noodle soup. The shop is currently run by Po's adoptive father,
Mr. Ping
, who takes pride in the success the shop has gained in his family. The shop has previously been named "Golden Harvest Noodle Restaurant", but ever since Po's success as the
Dragon Warrior
, Mr. Ping has started to also sell tofu and renamed the shop "Dragon Warrior Noodles & Tofu".
Previously featured
*In order by most recent first:
Bao Gu Orphanage
Time featured: November 14, 2010 -- March 4, 2011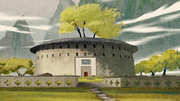 The Bao Gu Orphanage is a communal shelter presumably located in the Valley of Peace where homeless children are cared for until they get adopted, as described in Secrets of the Furious Five. Along with its notable architecture, this orphanage is well known to be the previous home of Master Tigress, who was treated as an outcast by the caretakers and other children of the orphanage due to her inability to control her strength and temper.
Featured Location Archive