Current Featured Media
Kung Fu Panda Holiday Special
Time featured: November 4, 2012 -- Present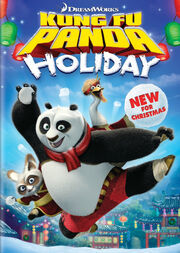 Kung Fu Panda Holiday Special is an Annie Award-winning television special based on DreamWorks Animation's Kung Fu Panda. The special tells of Po's struggles during the winter holidays when he is caught between his obligations as the Dragon Warrior with his master, and his family traditions with his father at the Noodle Shop. Eventually Po learns to follow his heart, thus showing the true meaning of tradition, community and family.
First broadcast on NBC in 2010 with nearly 6 million viewers, the special received positive reviews from critics and public viewers alike. It won a total of five Annie Awards at the 38th Annie Awards, and is now available on DVD and Blu-ray.
Previously Featured
*In order by most recent first:
Kung Fu Panda: Legends of Awesomeness
Time featured: August 21, 2010 -- November 4, 2012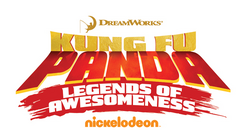 Kung Fu Panda: Legends of Awesomeness is a brand-new television show developed by Nickelodeon and DreamWorks Animation. The show tells about the continuing adventures of Po the panda as he trains, protects, fights, teaches, learns, stumbles, talks too much, and geeks out as the newest hero in the Valley of Peace. Now living in the barracks with the Furious Five, Po will have to take on his many new responsibilities, his many new adversaries, and his many old pounds in the continuing education and adventures of the Dragon Warrior.
Kung Fu Panda 2
Time featured: June 12, 2009 -- August 21, 2010
Kung Fu Panda Sequel Confirmed.
Release Date: May 27th, 2011
Official Title: Kung Fu Panda 2: Kaboom of Doom
Returning Voice Actors Confirmed
Kung Fu Panda Original Soundtrack
Time featured: December 1, 2008 -- June 12, 2009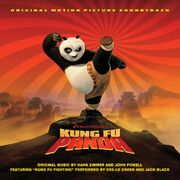 Kung Fu Panda is the soundtrack of the film of the same name. It was released on June 3, 2008. It is composed by Hans Zimmer and John Powell. The Asian version includes two more versions of "Kung Fu Fighting", each performed by Korean singer Rain and by Filipino singer Sam Concepcion. They are played instead of the original version in Asian screenings of the film.
See Main Article:
Kung Fu Panda (soundtrack)
Kung Fu Panda Video Game
Time featured: October 10 -- December 1, 2008
A video game created by Activison loosely based on the film.
See Main Article: Kung Fu Panda: The Game
Featured Media Archive
Community content is available under
CC-BY-SA
unless otherwise noted.