This article is a stub.
Not all information has been covered about this subject. You can help by expanding it!
The kung fu monks were a group of monks who lived in a monastery atop Mugu Mountain.[1]
Membership
Coming soon!
History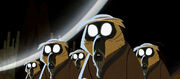 "Master Oogway sent him to study with the kung fu monks at Mugu Mountain. But Ding was impatient and turned on his teachers. Controlling the orbs with pure mental focus, he could possess people and objects. He penetrated the monks' minds and drove them to their demise."
Fighting style
Coming soon!
Relationships
With each other
Coming soon!
Coming soon!
It is assumed that Oogway knew these monks, since he was the one that sent Ding atop Mugu Mountain to study with them.
Clothing
Coming soon!
Gallery
Images
Coming soon!
Videos
Coming soon!
References
Community content is available under
CC-BY-SA
unless otherwise noted.