This article is a stub.
Not all information has been covered about this subject. You can help by expanding it!
Kwan (also known as Kwan the Unkillable) is a character from the Nickelodeon television series Kung Fu Panda: Legends of Awesomeness. He is a wrestler experienced in kung fu, and as such is highly revered by Po, who has been a fan of his since he was a cub. Kwan is the main antagonist of "Has-been Hero"; in the episode, Po was invited to a fighting match by Kwan, as he aimed to use and deceive Po in order to make himself famous again.
Biography
Earlier years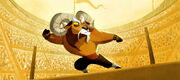 Kwan was an expert wrestler who won many victories against other wrestlers. He was performing his "Ram slam" on a downed opponent when a young Po had accidentally slipped a dumpling into the arena. The dumpling hit Kwan in the eye, and he missed his opponent, humiliating him in front of everyone. After that wrestling match, Kwan lost to others and sought revenge on Po.
Kwan attempted to deceive Po into a wrestling match by pretending that he was handicapped. He went up the thousand steps to talk with him, and Po, feeling remorse, asked if he could make Kwan happy. Kwan found iron tortoise shells, which limited the person's movement. He asked Po if he could use them on his match against him, and Po agreed. After the match begun, Kwan told Po he had deceived him after the incident when Po watched Kwan in a match. Po managed to defend himself, taking one lock out, another one by Monkey, and one by Kwan himself. When Kwan knocked Po down and attempted to use his "Ram slam" on him, Po blocked it with the last remaining iron tortoise shell, resulting in Kwan getting laughed at again. However, the crowd had not noticed it, and Po told him that losing is not dishonorable if it is for the right thing, and both declared themselves the winners. Kwan later thanked Po.
Personality
Coming soon!
Fighting style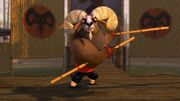 Coming soon!
Relationships
Coming soon!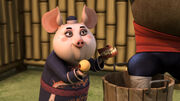 Coming soon!
Clothing
Coming soon!
Gallery
Images
Quotes
Coming soon!
Quotes
Coming soon!
References
Community content is available under
CC-BY-SA
unless otherwise noted.