This article is a stub.
Not all information has been covered about this subject. You can help by expanding it!
The Lao Shu are a band of renegade rats numbering in the hundreds, possibly the thousands.[1] They appeared in the Kung Fu Panda: Legends of Awesomeness episode "The Hunger Game", where they stole food from the Valley of Peace and fought Po and the Furious Five for possession of it. They are led by Ju-Long.
Membership
History
Coming soon!
Fighting style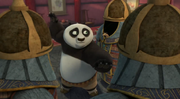 The Lao Shu attack in large numbers, their small size and agility making it easy for them to evade bigger opponents. They are very strong for their size, shown to be capable of manipulating large suits of armor.
Relationships
With each other
Coming soon!
The Lao Shu are shown to be very loyal to their brother.
Coming soon!
Coming soon!
Clothing
The Lao Shu all wear the same blue pants with studded belts.[1]
Trivia
Gallery
Images
Videos
Coming soon!
References
Community content is available under
CC-BY-SA
unless otherwise noted.