This article is a stub.
Not all information has been covered about this subject. You can help by expanding it!
Meng Meng (pronounced "MAENG maeng") is a young resident of the secret panda village in Kung Fu Panda 3. She is the twin triplet of Shuai Shuai and Ku Ku. She is voiced by Zahara Jolie-Pitt.[1]
Biographyedit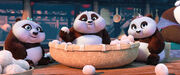 Coming soon!
Personalityedit
Coming soon!
Relationshipsedit
Coming soon!
Meng Meng wears no other clothing apart from a small, pink-colored bow on her head.
Meng Meng's name translates from Chinese to English as "cute" (traditional and simplified Chinese: 萌萌?; pinyin: méng méng).[2]
Meng Meng and her siblings are named after the world's only surviving set of panda triplets, who were born July 29, 2014 in China's Chimelong Safari Park where they currently live.[3] They were named in accordance to a prominent trait of the individual panda's personality, which was also incorporated into the film characters.
Meng Meng and her siblings are all voiced by the children of Angelina Jolie, voice of Tigress.[4]
Coming soon!
Coming soon!
Referencesedit
↑ 1.0 1.1 Kung Fu Panda 3 at the Internet Movie Database
↑ Daily Mail Online - "The real Kung Fu Pandas! Rare triplet bears set to feature in upcoming sequel of animated blockbuster" by Sophie Williams. Published November 27, 2015. Retrieved May 25, 2016.
↑ People.com - "Angelina Jolie Pitt Reveals Her Surprising Costars in Kung Fu Panda 3: Pax, Zahara, Shiloh and Knox!" by Jodi Gugliemi. Published January 7, 2016. Retrieved May 25, 2016.