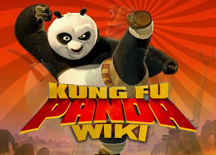 Hi Destiny3000,
Welcome to the Kung Fu Panda Wiki! We're very excited to have you join and participate in our online community. I see you've recently made your first contribution, and for that we thank you. :)
Before getting started on editing other pages, please take the time to look at our site policies. These will inform you of how things work around here, as well as what is and isn't allowed. I encourage you to take the time to familiarize yourself with these regulations, as these are currently in effect for all users on this wiki.
Also, if you're fairly new to wikis, I invite you to check out the wiki tutorials. Hopefully these will be able to walk you through the normal workings of wikis, as well as answer any questions you may have. Feel free to test out what you learn in the wiki's sandbox.
Other than that, you're good to go! I hope you decide to stay; although this wiki isn't new, it can use all the active members it can get. I also hope to get to know you better as time passes and we edit stuff around the community. If you have any questions or feedback, please feel free to leave me a message on my wall. Thanks and have fun! :)