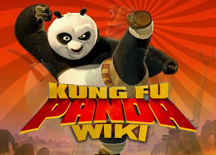 Hello Tigress115, and welcome to the Kung Fu Panda Wiki! We're very excited to have you join and participate in our online community. I see you've already made an edit to the File:Kung fu.png page, and for that we thank you. :)
Before getting started on editing other pages, please take the time to look at our site policies. These will tell you exactly how things work around here, as well as what is and isn't allowed on this site. I encourage you to take the time to familiarize yourself with our regulations, as these are currently in effect for all users on this wiki.
Also, if you're fairly new to wikis, I invite you to check out the wiki tutorial. Hopefully this will be able to walk you through the normal workings of wikis, and also answer any questions you may have. Feel free to test out what you learn in the wiki's sandbox.
Other than that, you're good to go! I hope you decide to stay; although this wiki isn't entirely new, it needs all the active members it can get. I also hope to get to know you better as time passes and we edit stuff around the community. If you have any questions or feedback, please feel free to leave me a message on my talk page. Thanks and have fun! :) -- Spottedstar (Talk) 23:50, June 16, 2012
I'm glad I inspired you!
edit
Dream page!
edit
Hi! I'm Artica! Welcome! Did I inspire you to do your own dream page? Yay! :D I havn't had a lot of Kung Fu Panda dreams recently, so It's nice to know someone else is willing to type their dreams down here!
Just a little peice of advice, Instead of sorting dreams solely by date, It is suggested that you sort them by character if possible. If it involves more than one character, just list it down on a category like Kung Fu Panda Randomness or something... Not telling you what to do, just making a suggestion
Community content is available under
CC-BY-SA
unless otherwise noted.