This article is a stub.
Not all information has been covered about this subject. You can help by expanding it!
This article is out of universe from Kung Fu Panda.
This subject has been distinguished as part of the real world and therefore should not be taken as part of the fictional universe of the Kung Fu Panda franchise.
"Origin of Awesomeness" is the tutorial level in the online action game Kung Fu Panda: Tales of Po. In this level, the game teaches the player how to perform moves within the game (e.g. "Press X to attack"). The level allows the player to practice their moves on objects like baskets and enemies.
After the tutorial is complete, the player is sent off to the first level. The tutorial can be skipped, should the player want to.
Walkthrough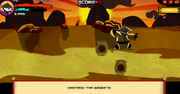 Coming soon!
Features
Characters
Coming soon!
Enemies
Coming soon!
Gallery
Images
Coming soon!
Videos
Coming soon!
See also
Coming soon!
References
Coming soon!
Community content is available under
CC-BY-SA
unless otherwise noted.