This article is out of universe from Kung Fu Panda.
This subject has been distinguished as part of the real world and therefore should not be taken as part of the fictional universe of the Kung Fu Panda franchise.
"Present Tense" is the tenth episode from season two of Kung Fu Panda: Legends of Awesomeness.
Plot
Synopsis
As the annual Winter Festival approaches, Po doesn't have enough money to buy his dad the awesome present he deserves, so he takes a job as a bounty hunter to capture a dangerous escaped convict for the reward.[1]
Summary
As the Valley of Peace prepares for the Winter Festival once more, Mr. Ping is anticipating the arrival of numerous kung fu masters in addition to guests like Xiao Niao. The Furious Five, Shifu, and Po have been enlisted to help in the preparations, but Tigress is less than thrilled. She then discovers that Po's gift for his father is a misshapen spoon, and her comments prompt Po to start looking for another gift, particularly after he finds his father's present for him. While Tigress ends up working with Xiao Niao, Po enlists Viper to help him find a better gift, and locates an ideal wok only to find that it's incredibly expensive. As Po despairs over finding a gift for his father, Constable Hu appears with a wanted notice for a criminal, with the reward for his capture being the exact amount Po needs for the wok.
Po then sets out for the Muchang Township in search of the renegade kung fu master, Shengqi, only to find that the villagers have no intention of letting him capture the escaped prisoner. After handily defeating them, Po picks up Shengqi's trail and pursues him, while Tigress finds her apathy towards the holiday at odds with the festive Xiao Nao. Po eventually tracks down Shengqi, who upon being defeated reveals he was once the guardian of Duke Pingjun. When Shengqi intervened in the duke's attempt to unjustly punish his daughter for her clumsiness, Pingjun had him arrested and sent to Chorh-Gom Prison for life.
Though initially sympathetic, Po comes to believe that Shengqi is lying about his act of breaking out of prison in order to see his daughter for the festival. Shengqi manages to escape him and leaves him tied up before departing, but Po is able to use the bent spoon to make his escape. Back in the village, Tigress' frustration with the holiday causes her to explode at Xiao Nao, who points out that, while Tigress may be an orphan, she does have a family-her fellow masters-which is more than Xiao Nao can say. Po tracks Shengqi to a mountain peak where he is fighting off a number of Imperial Army rhinos, only to be forced to confront him atop the icy heights.
During the fight, Po recognizes that Shengqi is wearing a necklace that is a twin to one worn by Xiao Nao, and realizes that the renegade warrior is speaking the truth. He defeats Shengqi, but then frees him from the rhinos in order to escort him back to the village to see his daughter; meanwhile, Tigress apologizes to Xiao Nao by gifting her with a new instrument to replace one broken in Tigress' earlier temper. Po and Shengqi then arrive and see Xiao Nao, only for Hu to interrupt. Po informs him of Shengqi's innocence, and the reunion between father and daughter moves Hu, who promises to seek justice for the wrongly convicted master. Mr. Ping and Po then exchange gifts, and Mr. Ping expresses his appreciation for Po's handmade gift before the villagers join in a singalong.
Voice cast
Trivia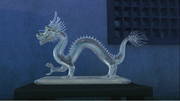 The Chinese text on the wanted flyer for Shengqi ("500元獎金

?

"; simplified Chinese: 500元奖金; pinyin: yuán jiǎngjīn) translates approximately to "500 yuan bonus."
The same ice dragon sculpture that appeared in Kung Fu Panda Holiday also appears in this episode.
Gallery
Images
Videos
Coming soon!
Quotes
Coming soon!
See also
References
External links
Legends of Awesomeness Season 2 episodes
No.

in series

No.

in season
Title
Directed by
Written by
Original air date
Prod. code
27
1
"Kung Fu Day Care"
Juan Meza-Leon
Doug Langdale
Apr. 6, 2012
201
28
2
"Royal Pain"
Lane Lueras
Gene Grillo
Sep. 26, 2012
214
29
3
"The Most Dangerous Po"
Michael Mullen
Gene Grillo
Oct. 13, 2012
203
30
4
"The Po Who Cried Ghost"
Michael Mullen
Gene Grillo
Oct. 27, 2012
207
31
5
"Kung Shoes"
Lane Lueras
Doug Langdale
Nov. 3, 2012
209
32
6
"Bosom Enemies"
Lane Lueras
Gene Grillo
Nov. 10, 2012
215
33
7
"Enter the Dragon (Part 1)"
Aaron Hammersley, Michael Mullen
Scott Kreamer, Peter Hastings
Nov. 12, 2012
220
34
8
"Enter the Dragon (Part 2)"
Aaron Hammersley, Michael Mullen
Scott Kreamer, Peter Hastings
Nov. 12, 2012
221
35
9
"Master and the Panda"
Michael Mullen
Gene Grillo
Nov. 24, 2012
212
36
10
"Present Tense"
Michael Mullen
Doug Langdale
Dec. 8, 2012
213
37
11
"Shifu's Back"
Michael Mullen
Paul Rugg
Jan. 14, 2013
205
38
12
"Terror Cotta"
Michael Mullen
Doug Langdale
Jan. 15, 2013
225
39
13
"The Spirit Orbs of Master Ding"
Lane Lueras
Tom Sheppard
Jan. 16, 2013
226
40
14
"The Maltese Mantis"
Michael Mullen
Paul Rugg
Jan. 17, 2013
202
41
15
"Invitation Only"
Michael Mullen
Paul Rugg
Jan. 18, 2013
217
42
16
"The Midnight Stranger"
Juan Meza-Leon
Doug Langdale
Jan. 20, 2013
206
43
17
"Shoot the Messenger"
Lane Lueras
Kevin Campbell
Jan. 22, 2013
219
44
18
"A Tigress Tale"
Juan Meza-Leon, Gabe Swarr
Paul Rugg
Jan. 23, 2013
211
45
19
"Crane on a Wire"
Lane Lueras
Gene Grillo
Jan. 24, 2013
204
46
20
"The Secret Museum of Kung Fu"
Michael Mullen
Doug Langdale
Jan. 25, 2013
224
47
21
"Bride of Po"
Michael Mullen
Tom Sheppard
Feb. 14, 2013
303
48
22
"Five is Enough"
Aaron Hammersley
Gene Grillo
Jun. 17, 2013
301
49
23
"Mama Told Me not to Kung Fu"
Lane Lueras
Doug Langdale
Jun. 18, 2013
222
50
24
"Secret Admirer"
Gabe Swarr, Aaron Hammersley
Katie Mattila
Jun. 19, 2013
216
51
25
"Qilin Time"
Juan Meza-Leon
Paul Rugg
Jun. 20, 2013
210
52
26
"Huge"
Aaron Hammersley
Gene Grillo
Jun. 21, 2013
223
Community content is available under
CC-BY-SA
unless otherwise noted.