This article is a stub.
Not all information has been covered about this subject. You can help by expanding it!
This article is out of universe from Kung Fu Panda.
This subject has been distinguished as part of the real world and therefore should not be taken as part of the fictional universe of the Kung Fu Panda franchise.
"Present Tense" is the tenth episode from season two of Kung Fu Panda: Legends of Awesomeness.
Plot
Synopsis
Po takes a job as a bounty hunter to earn money to buy his father a gift.[2]
As the annual Winter Festival approaches, Po doesn't have enough money to buy his dad the awesome present he deserves, so he takes a job as a bounty hunter to capture a dangerous escaped convict for the reward.[3]
Summary
This section needs revising.
The content below could use some extra attention. You can help by editing it!
The episode starters with Shifu announcing the winter festival feast. He asked the children to thank the Furious Five and the Dragon Warrior for coming Mr. Ping asks Po to do something but Po rushes upstairs. Upstairs, Po is using a knife and carving a spoon out of a bent piece of wood for his dad present. Tigress comes up and seeing the spoon, the says they make a big deal out of this holiday and he giving him that. Ping asks Po to get more seismic seeds. While Po searches he finds the nunchucks that he always wanted. his dad bought for him. He realizes that his homemade spoon doesn't really do his dad justice so he asks Viper to help him find another present. Po wants to get his dad a golden plate but it cost five hundred yuan. Desperate to get five hundred yuan, he takes Constible Hu offer for the coins to capture Shengqi.
Voice cast
Trivia
The Chinese text on the wanted flyer for Shengqi ("500元獎金

?

"; simplified Chinese: 500元奖金; pinyin: yuán jiǎngjīn) translates approximately to "500 yuan bonus".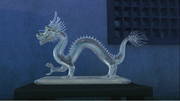 The same ice dragon sculpture that appeared in Kung Fu Panda Holiday also appears in this episode as an Easter egg. Both the special and this episode take place during the Winter Feast; however, it can be said that this episode takes place a year following the events of the special.
Gallery
Images
Videos
Quotes
Coming soon!
See also
References
External links
Community content is available under
CC-BY-SA
unless otherwise noted.