This article is out of universe from Kung Fu Panda.
This subject has been distinguished as part of the real world and therefore should not be taken as part of the fictional universe of the Kung Fu Panda franchise.
This article is about the episode. For the DVD, see Kung Fu Panda: Legends of Awesomeness - The Scorpion Sting.
"Scorpion's Sting" is the first episode from season one of Kung Fu Panda: Legends of Awesomeness. It was the first episode to be aired on Nickelodeon as a sneak preview of the series, as well as one of the first to be previewed online before the official launch of the series.
Plot
Synopsis
Tigress has River Fever and it's up to Po and Monkey to bring back the cure. Unfortunately they have to travel into deadly Scorpion territory to get it[;] and furthermore, Scorpion has brainwashed Monkey into becoming her assassin and programmed him to attack Po.[1]
Summary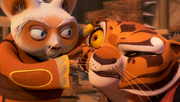 Po
practiced his
kung fu
skills in the
Training Hall
with orders given by
Shifu
to make it across the
obstacle course
in ten seconds unscathed. Po was jumped in a sneak attack by
Monkey
, who was about to beat Po in their score-keeping, when
Tigress
suddenly interrupted them with a loud sneeze, to which she promptly fell into the obstacle course and caused the three of them to fly out onto the other side. Po and Monkey then joked around with the "sneezy trick", making light of Tigress's cold-like symptoms. She openly denied having a cold, and it was discerned by Shifu that she actually had
River Fever
. Po then convinced the Masters not to worry, stating that he once had River Fever as a kid and it went away the very next day. However, Tigress never had river fever as a cub. Unfortunately to Po's shock,
Crane
revealed that getting River Fever as an adult was fatal and that the only cure was tea made from the sacred
sun orchid
, located in the
Valley of the Scorpion
. In addition, the flower must be consumed before sundown or else Tigress would die. Monkey and Po set off to retrieve it while Tigress was reluctantly placed in a sick ward with sick children and
Mr. Ping
as entertainment, much to Tigress' dismay.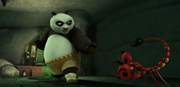 Upon entering the valley, Scorpion trapped Monkey unexpectedly and stung him with her elixir-enhanced, mind-controlling stinger, ordering him to set out to destroy Po. Po managed to escape Monkey's attempts to destroy him, not realizing that he was being manipulated, and took it as a friendly session of sneak attack training. However, Po soon realized the truth and eventually became cornered by Monkey, and hung on to a cliff, about to fall to his death. But thanks to the "poison of friendship", Monkey overcame the mind control and they both set out to fight Scorpion. They eventually defeated her (thanks to Po's unexpected sneak attack he had learned from Shifu), retrieved the sun orchid, and then quickly rushed back to the Valley of Peace, arriving at the Training Hall just before sundown. With no time to make the tea from the sun orchid Tigress consumed the orchid and nothing was happening. Everyone looked down sadly, believing she was dead. But she then jumped up and was immediately cured, and Po and Monkey continued to joke and try to outdo each other, with Monkey declaring a point as he tricked Po into putting peppers in his eyes.
Voice cast
Trivia
Scenes from this episode were first previewed at the 2010 San Diego Comic-Con as storyboard stills while the series was still in production.
Gallery
Images
Videos
Coming soon!
Quotes






"Friends love the sneezy trick!"
—Po




" [As Mr. Clown, Mr. Ping makes a goat puppet kiss a sick Tigress repeatedly] I love you so much!"




"This is going to sting a little bit—just kidding. It burns like fire!"
See also
References
↑ Kung Fu Panda: Legends of Awesomeness : Episode Descriptions via the Internet Archive's Wayback Machine. Archived October 29, 2011.
External links
Legends of Awesomeness Season 1 episodes
No.

in series

No.

in season
Title
Directed by
Written by
Original air date
Prod. code
1
1
"Scorpion's Sting"
Jim Schumann
Doug Langdale
September 19, 2011
101
2
2
"The Princess and the Po"
Jim Schumann
Doug Langdale
October 21, 2011
103
3
3
"Sticky Situation"
Gabe Swarr
Scott Kreamer
November 7, 2011
102
4
4
"Chain Reaction"
Michael Mullen
Kevin Seccia
November 8, 2011
104
5
5
"Fluttering Finger Mindslip"
Jim Schumann
Jessica Gao
November 9, 2011
105
6
6
"Good Croc, Bad Croc"
Michael Mullen
Scott Kreamer
November 10, 2011
111
7
7
"Hometown Hero"
Juan Meza-Leon
Kevin Seccia
November 11, 2011
109
8
8
"Jailhouse Panda"
Michael Mullen
Doug Landgale & Jon Ross
November 18, 2011
117
9
9
"Owl Be Back"
Michael Mullen
Doug Langdale
November 26, 2011
107
10
10
"Bad Po"
Luther McLaurin & Jim Schumann
Jon Ross
November 26, 2011
113
11
11
"Sight for Sore Eyes"
Juan Meza-Leon
Doug Langdale
November 27, 2011
108
12
12
"Rhino's Revenge"
Michael Mullen
Scott Kreamer
November 27, 2011
106
13
13
"Master Ping"
Michael Mullen
Paul Rugg
November 28, 2011
119
14
14
"Ghost of Oogway"
Lane Lueras & Luther McLaurin
Kevin Seccia
November 29, 2011
120
15
15
"The Kung Fu Kid"
Juan Meza-Leon
Scott Kreamer
November 30, 2011
122
16
16
"Ladies of the Shade"
Michael Mullen
Joshua Hamilton
December 1, 2011
123
17
17
"Big Bro Po"
Lane Lueras
Doug Langdale
December 2, 2011
118
18
18
"Po Fans Out"
Juan Meza-Leon
Kevin Seccia
December 9, 2011
112
19
19
"Challenge Day"
Jim Schumann
Scott Kreamer
December 16, 2011
110
20
20
"My Favorite Yao"
Luther McLaurin
Joshua Hamilton
December 30, 2011
114
21
21
"In With the Old"
Michael Mullen
Kevin Seccia
January 16, 2012
124
22
22
"Has-been Hero"
Gabe Swarr
Kevin Seccia
March 31, 2012
126
23
23
"Love Stings"
Juan Meza-Leon
Joshua Hamilton
April 2, 2012
115
24
24
"Hall of Lame"
Juan Meza-Leon
Kevin Seccia
April 3, 2012
116
25
25
"Father Crime"
Michael Mullen
Doug Langdale
April 4, 2012
121
26
26
"Monkey in the Middle"
Lane Lueras
Gene Grillo
April 5, 2012
125
Community content is available under
CC-BY-SA
unless otherwise noted.