This article is a stub.
Not all information has been covered about this subject. You can help by expanding it!
Shi Wo is a character in the Nickelodeon television series Kung Fu Panda: Legends of Awesomeness. He is an actor and the leader of an out-of-work acting troupe.[1] He appeared in the episode "The Real Dragon Warrior" where he and his troupe helped Cheng in his fraudulent charade as the Dragon Warrior. After he was exposed by Po, however, Shi Wo and his troupe was once again out of work and became bandits to obtain money.
Biography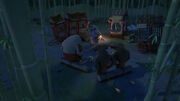 Coming soon!
Personality
Coming soon!
Fighting style and abilities
Coming soon!
Relationships
Coming soon!
Coming soon!
Coming soon!
Clothing
Coming soon!
Gallery
Images
Videos
Coming soon!
Quotes
Coming soon!
References