This article is a stub.
Not all information has been covered about this subject. You can help by expanding it!
This article is out of universe from Kung Fu Panda.
This subject has been distinguished as part of the real world and therefore should not be taken as part of the fictional universe of the Kung Fu Panda franchise.
This article is about the episode. For the actual orbs used by Master Ding, see Ding's spirit orbs.
"The Spirit Orbs of Master Ding" is the thirteenth episode from season two of Kung Fu Panda: Legends of Awesomeness.
Plot
Synopsis
When Po is possessed by the ghost of evil Master Ding, it's up to Tigress to save him before Ding can unleash his powers and enslave the Valley of Peace.[1]
Summary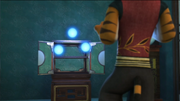 Coming soon!
Voice cast
Gallery
Images
Videos
Coming soon!
Tracks
Quotes
Coming soon!
See also
References
External links
Legends of Awesomeness Season 2 episodes
| No. in series | No. in season | Title | Directed by | Written by | Original U.S. airdate | Prod. code |
| --- | --- | --- | --- | --- | --- | --- |
| 27 | 1 | "Kung Fu Day Care" | Juan Meza-Leon | Doug Langdale | April 6, 2012 | 201 |
| 28 | 2 | "Royal Pain" | Lane Lueras | Gene Grillo | September 26, 2012 | 214 |
| 29 | 3 | "The Most Dangerous Po" | Michael Mullen | Gene Grillo | October 13, 2012 | 203 |
| 30 | 4 | "The Po Who Cried Ghost" | Michael Mullen | Gene Grillo | October 27, 2012 | 207 |
| 31 | 5 | "Kung Shoes" | Lane Lueras | Doug Langdale | November 3, 2012 | 209 |
| 32 | 6 | "Bosom Enemies" | Lane Lueras | Gene Grillo | November 10, 2012 | 215 |
| 33 | 7 | "Enter the Dragon (Part 1)" | Aaron Hammersley & Michael Mullen | Scott Kreamer & Peter Hastings | November 12, 2012 | 220 |
| 34 | 8 | "Enter the Dragon (Part 2)" | Aaron Hammersley & Michael Mullen | Scott Kreamer & Peter Hastings | November 12, 2012 | 221 |
| 35 | 9 | "Master and the Panda" | Michael Mullen | Gene Grillo | November 24, 2012 | 212 |
| 36 | 10 | "Present Tense" | Michael Mullen | Doug Langdale | December 8, 2012 | 213 |
| 37 | 11 | "Shifu's Back" | Michael Mullen | Paul Rugg | January 14, 2013 | 205 |
| 38 | 12 | "Terror Cotta" | Michael Mullen | Doug Langdale | January 15, 2013 | 225 |
| 39 | 13 | "The Spirit Orbs of Master Ding" | Lane Lueras | Tom Sheppard | January 16, 2013 | 226 |
| 40 | 14 | "The Maltese Mantis" | Michael Mullen | Paul Rugg | January 17, 2013 | 202 |
| 41 | 15 | "Invitation Only" | Michael Mullen | Paul Rugg | January 18, 2013 | 217 |
| 42 | 16 | "The Midnight Stranger" | Juan Meza-Leon | Doug Langdale | January 20, 2013 | 206 |
| 43 | 17 | "Shoot the Messenger" | Lane Lueras | Kevin Campbell | January 22, 2013 | 219 |
| 44 | 18 | "A Tigress Tale" | Juan Meza-Leon & Gabe Swarr | Paul Rugg | January 23, 2013 | 211 |
| 45 | 19 | "Crane on a Wire" | Lane Lueras | Gene Grillo | January 24, 2013 | 204 |
| 46 | 20 | "The Secret Museum of Kung Fu" | Michael Mullen | Doug Langdale | January 25, 2013 | 224 |
| 47 | 21 | "Bride of Po" | Michael Mullen | Tom Sheppard | February 14, 2013 | 303 |
| 48 | 22 | "Five is Enough" | Aaron Hammersley | Gene Grillo | June 17, 2013 | 301 |
| 49 | 23 | "Mama Told Me not to Kung Fu" | Lane Lueras | Doug Langdale | June 18, 2013 | 222 |
| 50 | 24 | "Secret Admirer" | Gabe Swarr & Aaron Hammersley | Katie Mattila | June 19, 2013 | 216 |
| 51 | 25 | "Qilin Time" | Juan Meza-Leon | Paul Rugg | June 20, 2013 | 210 |
| 52 | 26 | "Huge" | Aaron Hammersley | Gene Grillo | June 21, 2013 | 223 |