This article is a stub.
Not all information has been covered about this subject. You can help by expanding it!
Woo (formally known as Superintendent Woo) is a character from the Nickelodeon television series Kung Fu Panda: Legends of Awesomeness.
Biography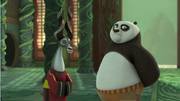 Coming soon!
Personality
Woo is very burdensome, short-tempered, demanding, and grumpy, so he has little patience. He tends to be argumentative, impertinent, aggressive, sarcastic, and insulting to those below his rank. However, when his authority proves useless in a situation, he will cave in when his own well-being is at stake.
Relationships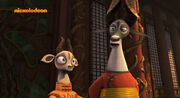 Coming soon!
Coming soon!
This section needs revising.
The content below could use some extra attention. You can help by editing it!
In the episode "Shifu's Back", when Po gave Shifu a three-ration potion for pain, when Woo arrives, he mistakes Shifu by Po, and when the real Shifu shows, Woo describes him as a "lunatic", and saying that "he is closing the Jade Palace for good". Po, Shifu and Constable Hu afterwards save him for Lao, Bao and Tsao.
Constable Hu
Coming soon!
Clothing
Coming soon!
Gallery
Images
Videos
Coming soon!
Quotes
Coming soon!
References
Community content is available under
CC-BY-SA
unless otherwise noted.