This article is a stub.
Not all information has been covered about this subject. You can help by expanding it!
Wu Fortress is a large cavern located in the interior of Hubei Volcano, with some of its features carved by hand. As its name suggests, it serves as the hideout and home of the Wu Sisters. It was featured in Secrets of the Masters where the sisters returned here and plotted their next takeover of China.
Description
Exterior
See Hubei Volcano.
Interior
Coming soon!
History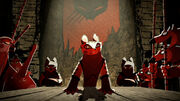 After escaping from their respective prisons, the Wu Sisters returned to their fortress, where they set their plan into motion to unify the gangs and lay siege to all of China. Sending out messenger falcons to the gang leaders, the sisters waited two days for all the gangs to arrive at the fortress for the meeting.
During the meeting, Su Wu was in the middle of persuading the leaders when Thundering Rhino, Storming Ox and Croc burst in and faced the villains. While the other gang leaders were scared off, the Wu Sisters furiously battled the warriors, but were defeated when their one weakness was taken advantage of and used against them.
Gallery
Images
Coming soon!
Videos
Coming soon!
References
Community content is available under
CC-BY-SA
unless otherwise noted.