Princess Zu Chunhua (pronounced "zoo CHOON-oo-ah") is a minor character in the Nickelodeon television series Kung Fu Panda: Legends of Awesomeness. She is the sister of the Emperor (Legends of Awesomeness)[1] and the mother of Zan. She appeared briefly in the episode "Kung Fu Day Care" when she traveled to the Jade Palace to reunite with her son and thank the masters for rescuing him from the Croc Bandits.
Biography
In "Kung Fu Day Care", Zu Chunhua's young son, Zan, was kidnapped for ransom by Fung and his gang. Luckily the child was soon rescued by Tigress and Po, who took Zan to the Jade Palace and explained what happened to Shifu. Unaware of Zan's identity as a prince and unable to get a proper answer while questioning him, Shifu sent Viper and Crane to search for Zan's parents while Zan stayed at the palace under the care of Tigress.
A day after Zan's rescue, Viper and Crane located Zu Chunhua and told her that her son was safe. Later that day, Zu Chunhua arrived at the palace with an imperial escort and was joyfully reunited with her son. A grateful Zu Chunhua thanked the kung fu masters for their help and took Zan home.
Personality
Zu Chunhua is a loving mother who was very happy to be reunited with her son after he was saved from the bandits who kidnapped him.
Relationships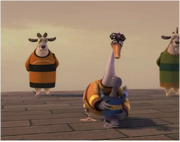 As a mother, Zu Chunhua loved Zan deeply, and very likely was devastated by his kidnapping. After Zan was saved by the masters of the
Jade Palace
, Zu Chunhua was very anxious to retrieve him, and was overjoyed when they were finally reunited.
Her servants
Coming soon!
Clothing
Zu Chunhua wears an orange robe with brown trim, as well as a crown that resembles Princess Mei Li's.
Gallery
Coming soon!
References
Community content is available under
CC-BY-SA
unless otherwise noted.